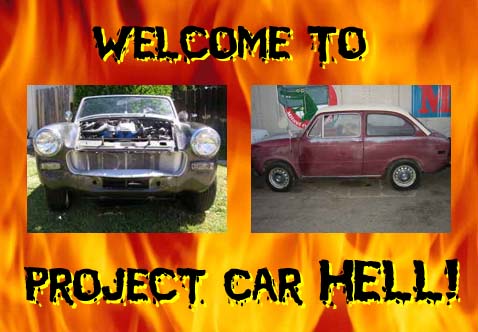 When I moved to Colorado from California in 2010, I left my Toyota 20R-powered 1967 Austin-Healey Sprite at Evil Genius Racing in Sacramento, with the idea that I'd come get it someday. Instead, other projects intervened, and I gave the car to the captain of the Licensed To Ill 24 Hours of LeMons race truck. Then he didn't have the time to get to the project, so he sold it to a guy who seemed very enthusiastic about the project. Six months later, it's up for sale again, and I'm featuring it in this week's Project Car Hell on Autoweek. Here are the links to the things I've written about this car in the past:
The very first Project Car Hell, in 2007, featuring the 20R Sprite
Jaguar XJ12 steering wheel installed.
Scoring junkyard ignition parts
Fiat tachometer for $3.01
Wiring the dash, starting the engine.
Rewiring the car from scratch.
Seat used in Illegal Soapbox Derby car.
Brake repairs.
The 20R Sprite Down On the Street.
Scoring Midget lever shocks at junkyard.