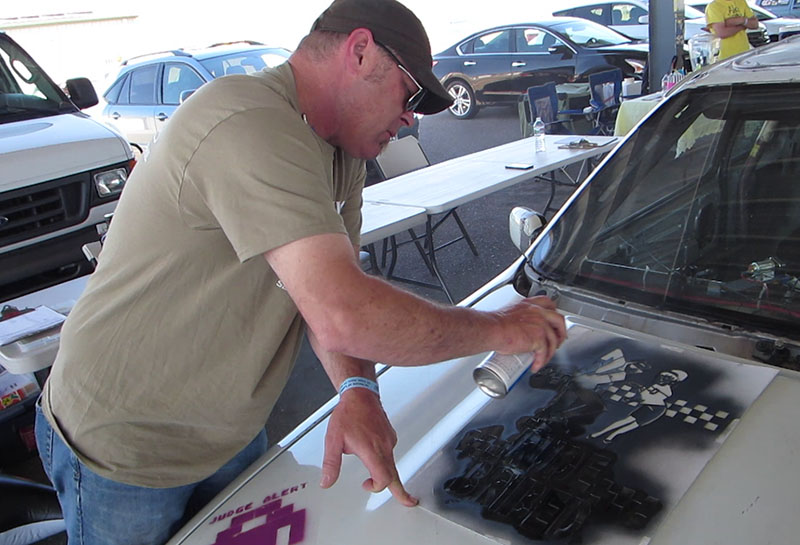 Starting in 2012, the judges of the Lemons Supreme Court began making a unique stencil for each race, applied to the cars of teams showing the proper obeisance to race officials via generous gifts (before that, we'd use the same stencils until they got lost or wore out). Here are the stencils of the 2017 24 Hours of Lemons season.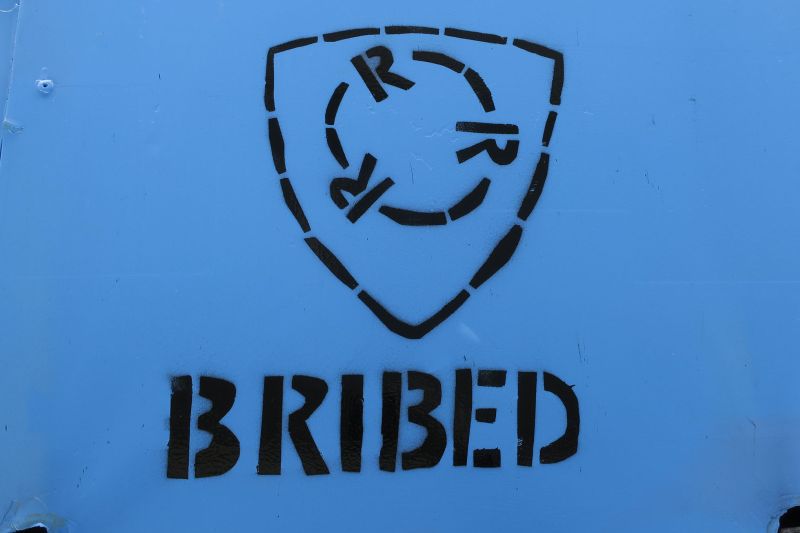 The Napoleon's Retreat From Moscow Lemons Rally began in Moscow, Pennslyvania, meandered around for 2,017 freezing, sleety miles, then ended at the 'Shine Country Classic 24 Hours of Lemons race in Birmingham, Alabama. One of the worst (i.e., best) Lemons Rally cars was Speedycop's three-wheeled Reliant Regal, so I made this Field Expedient Bribed Stencil depicting the Reliant logo, using a dull box-cutter and a Natty Light 12-pack box. Sure, it's crude, but so is the Reliant Regal.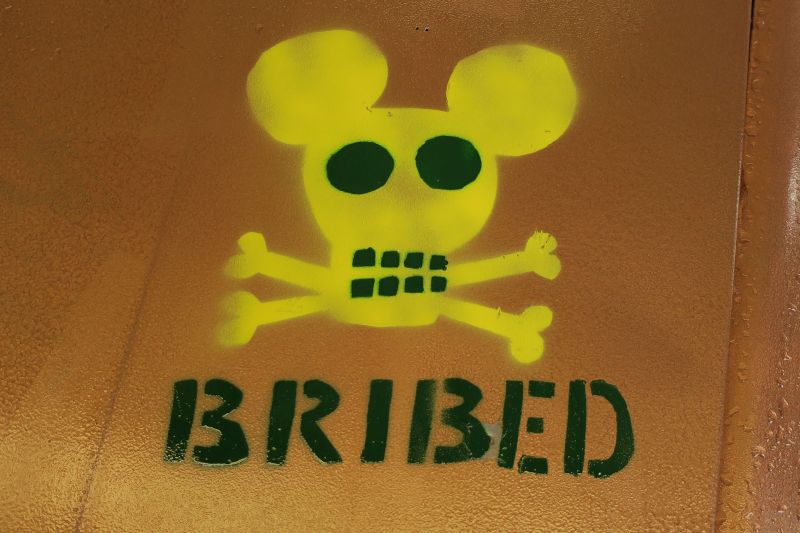 For the BRIBED stencil deployed at the Sears Pointless race, I used a stencil that I made during the late 1980s: a "Death Mickey" image inspired by my then-home of Orange County, California.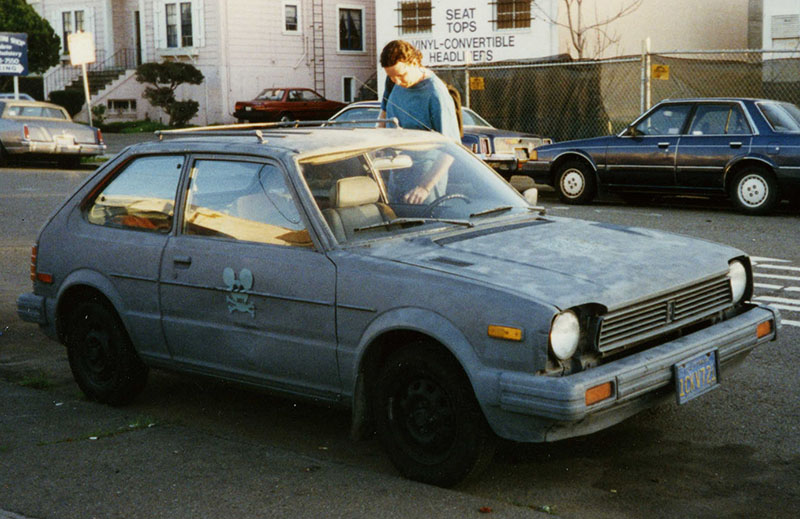 I had loaned this stencil to a friend in the early 1990s, so that he could apply it to his extraordinarily hooptie Honda Civic. Somehow, he saved it for a quarter-century, and gave it back to me just before the Sears Pointless race. Naturally, I had to add the BRIBED text and use it at the race.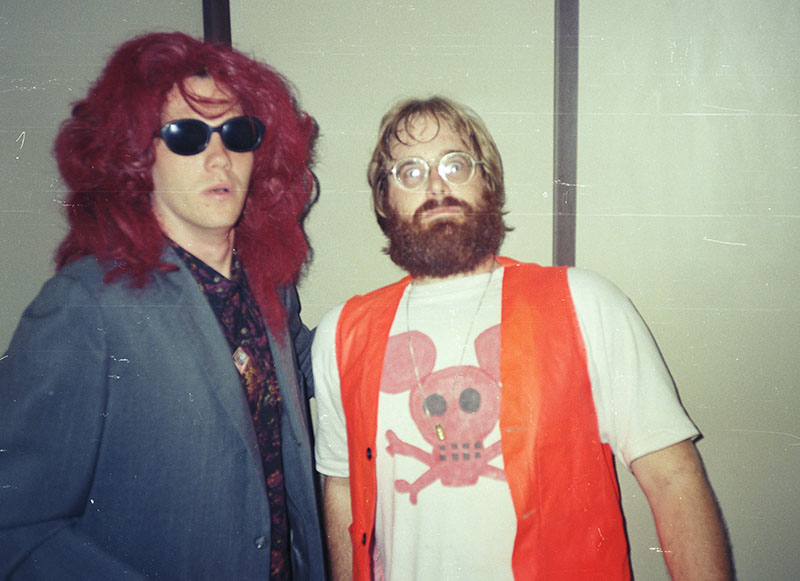 Here I am at a performance-art gig in San Diego in 1991, just after Nirvana had that big hit song, wearing a T-shirt made using the Death Mickey stencil.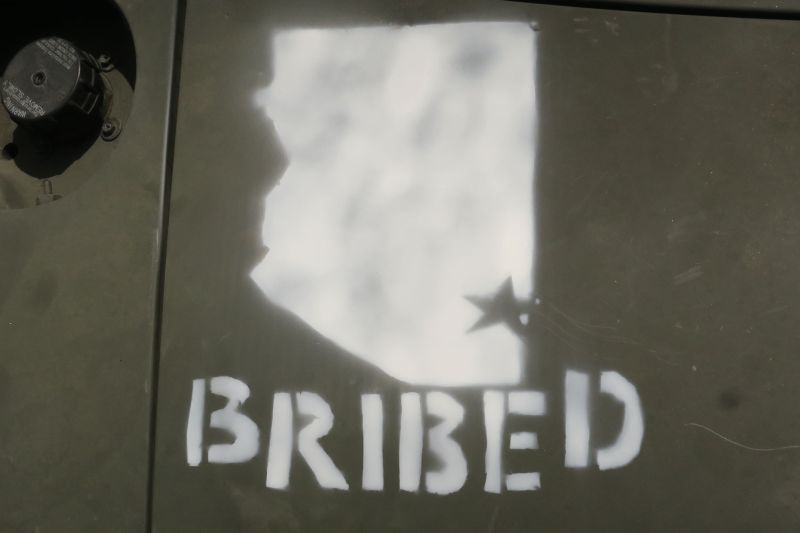 For our trip to Inde Motorsports Ranch, in the southeastern corner of Arizona, I made this stencil showing the location of the track on a map of the state. I have done the same thing for races in New Hampshire, Texas, Michigan, and West Virginia.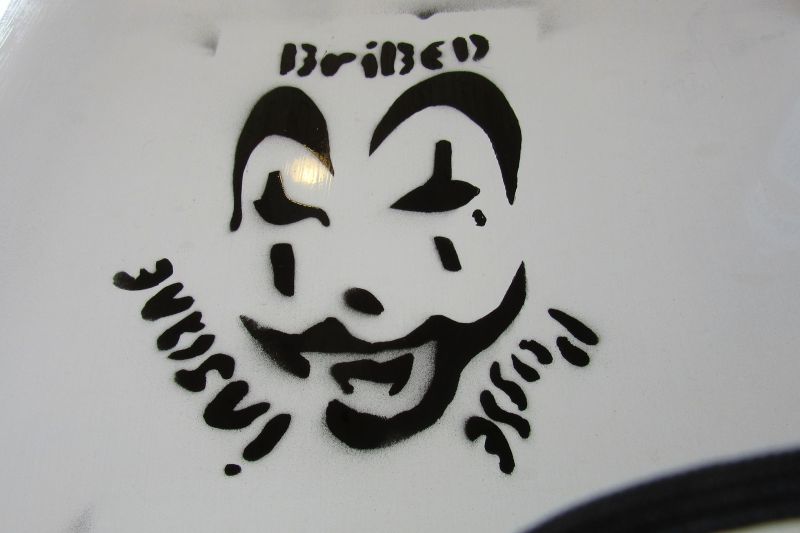 Judge Eric Rood, who shares a fascination with Juggalo culture with the rest of the Lemons officials, created this ICP-themed stencil for the first of two 2017 races at GingerMan Raceway in Michigan.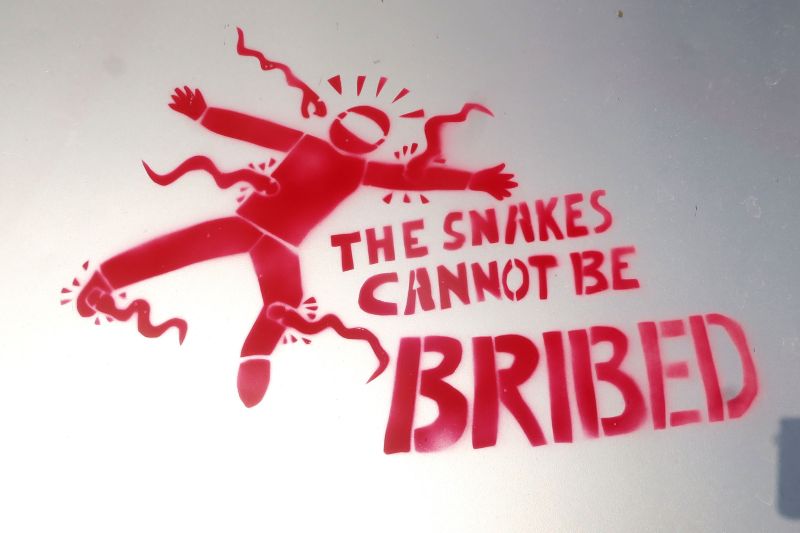 Carolina Motorsports Park, in South Carolina, is known for its swamp full of poisonous snakes (racers are advised to avoid it if possible), so I made this snake-themed stencil for the Southern Discomfort race.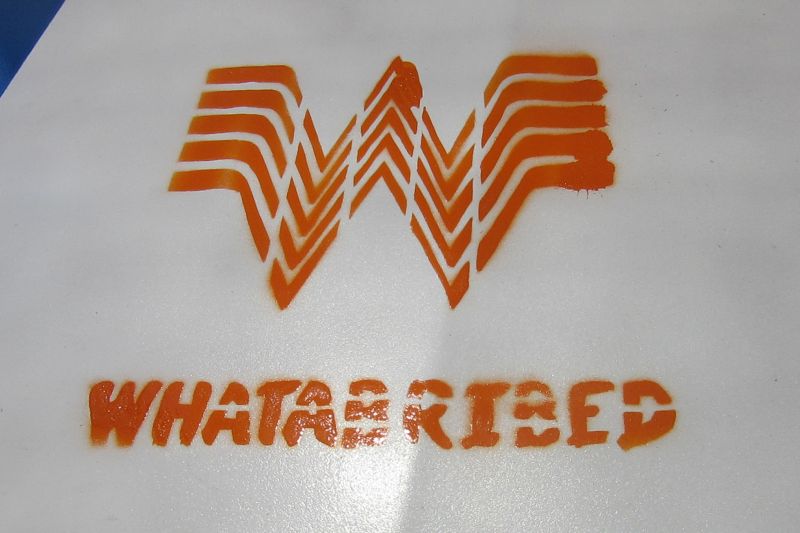 Whataburger is a Texas thing, like Dr. Pepper and Armadillo Racing, and Judge Steve McDaniel honored Whataburger with this stencil at the Texas Tippin' race at MSR Houston. The racers were too knocked out on Purple Drank to feel inspired to go get Whataburgers, unfortunately.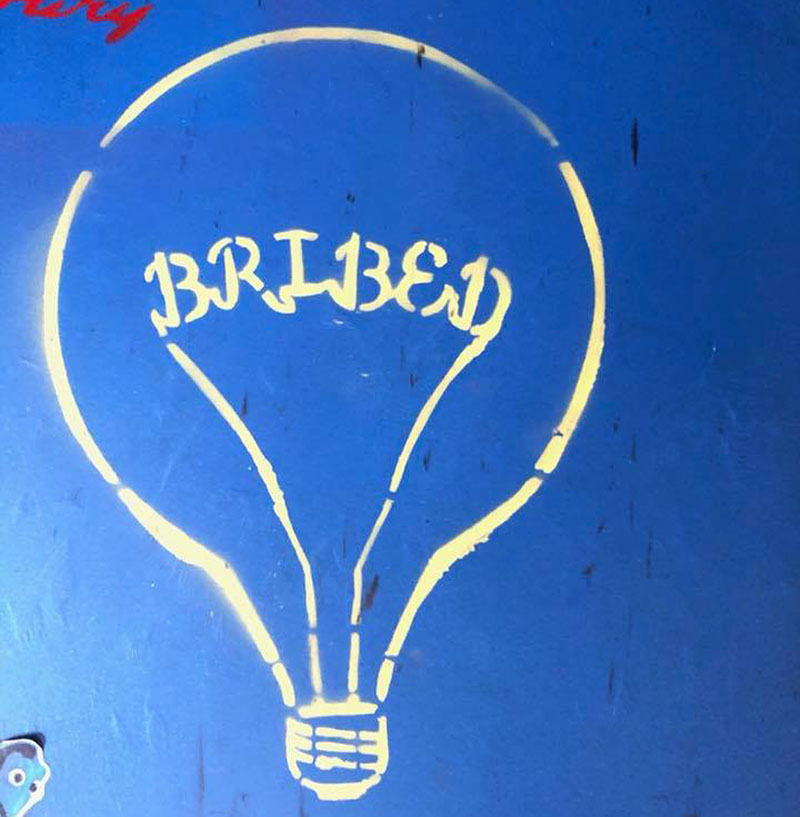 Judge Steve also made the stencil for the Real Hoopties of New Jersey race. Thomas Edison invented his light bulb in New Jersey, and this feat was commemorated with a genuine Lemons BRIBED stencil.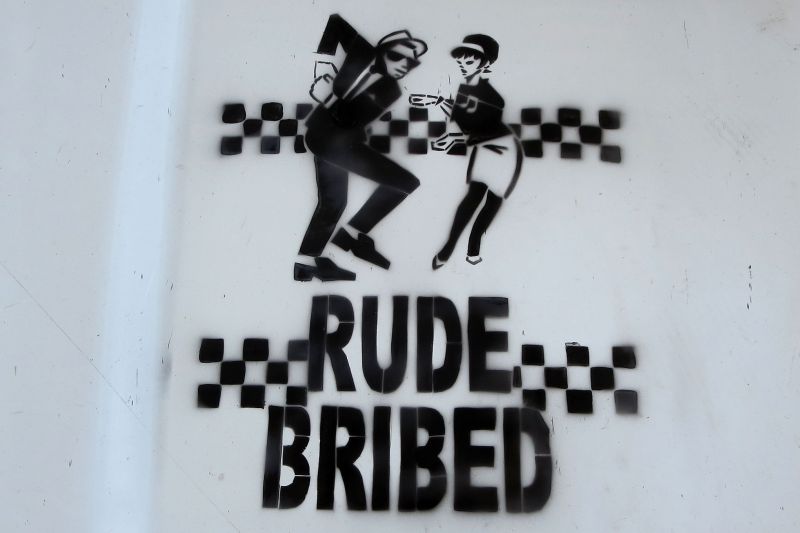 Northern California, home of Thunderhill Raceway, was a hotbed of ska music from the 1970s through the 1990s. For this reason, I made a 2-Tone-themed stencil based on a Specials album cover for the Vodden the Hell Are We Doing race.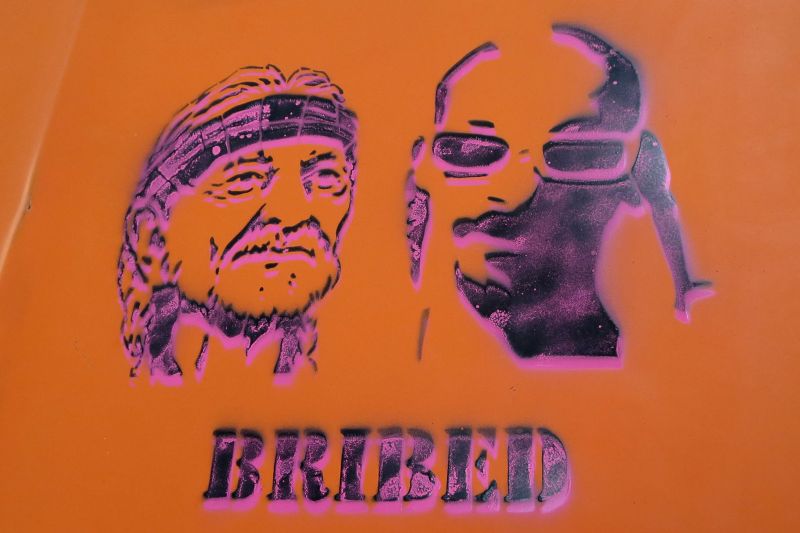 Colorado was the first state to get legalized recreational cannabis, and this stencil for the B.F.E. GP race depicts two cannabis entrepreneurs who sell their own lines of cannabis products in the state.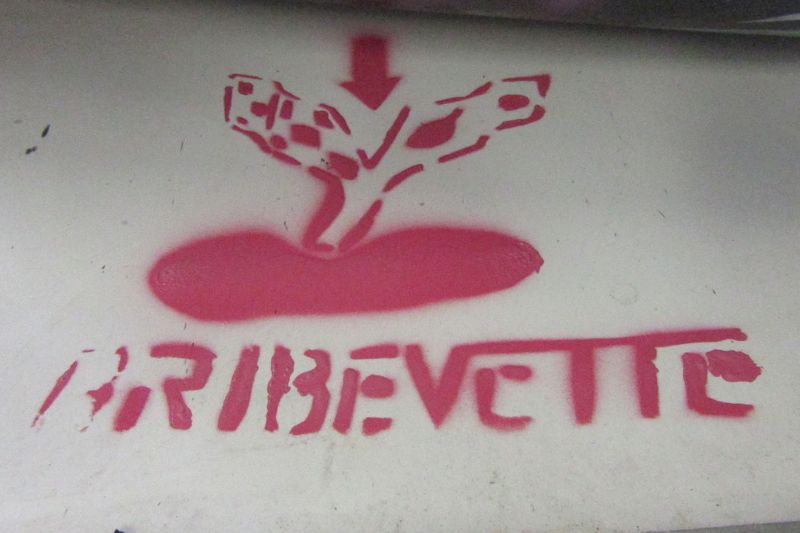 The National Corvette Museum has its own race track, which is where we held the Kentucky Demo Derby race. Judge Eric made this Corvette-centric stencil for the occasion.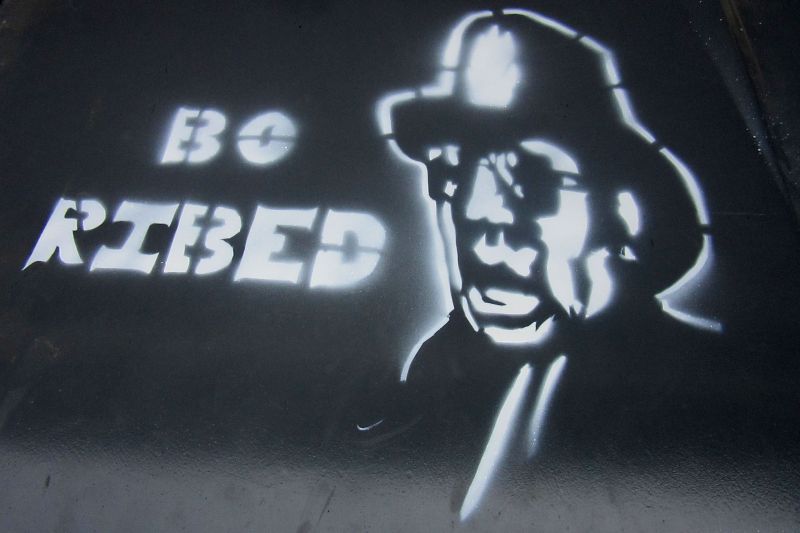 Bo Diddley was born in Mississippi, but became a star in Chicago. When Lemons came to Illinois for the Doin' Time In Joliet race, Judge Steve had this Bo-Ribed stencil ready to go.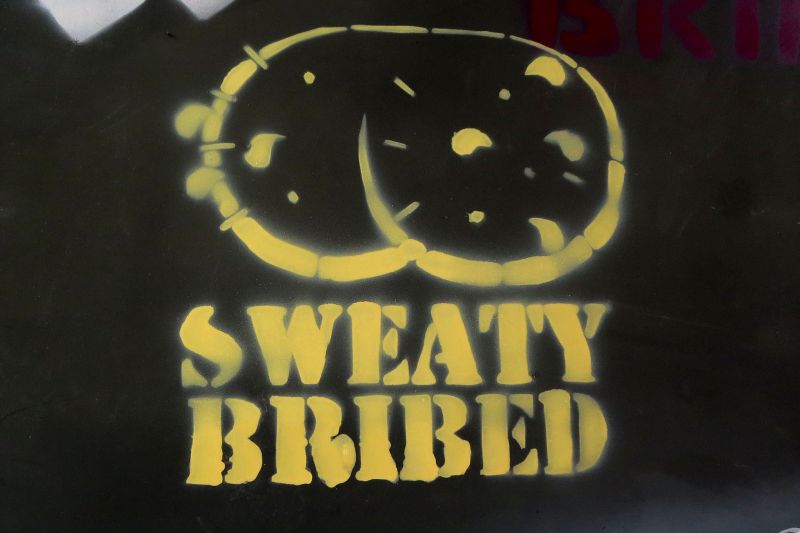 We were expecting high temperatures as the aptly-named Arse Sweat-a-Palooza race at Thunderhill, and nature did not disappoint. That's a good thing, because I made a stencil based on the original "sweaty ballz" (it's supposed to be a sweaty arse, but nobody believed it) event patch from the first-ever Arse Sweat-a-Palooza in 2010.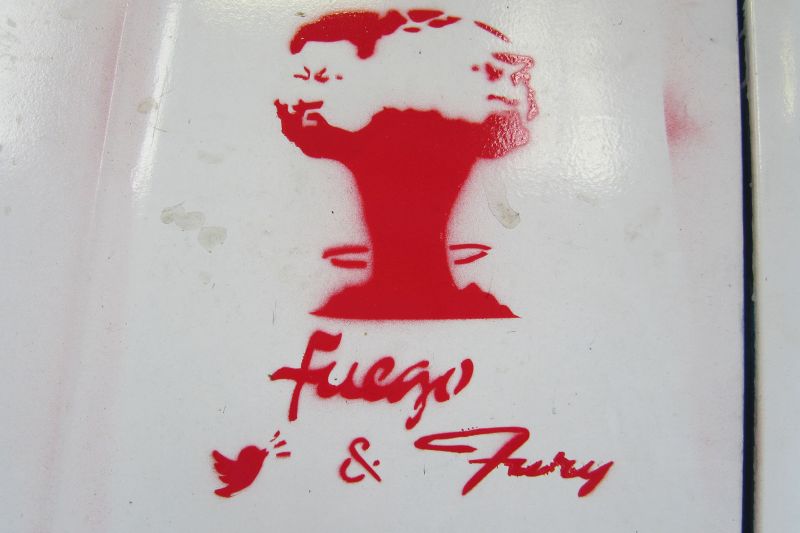 When the President of the United States threatened "fire and fury" upon the inhabitants of North Korea after that country's crime boss prank-called him, Judge Rich von Sneidern cut out this stencil for use at the Connecticut race. The image was inspired by the August 5th cover of The Economist, while the badges from the Renault Fuego (fuego is the Spanish word for fire) and Plymouth Fury went below.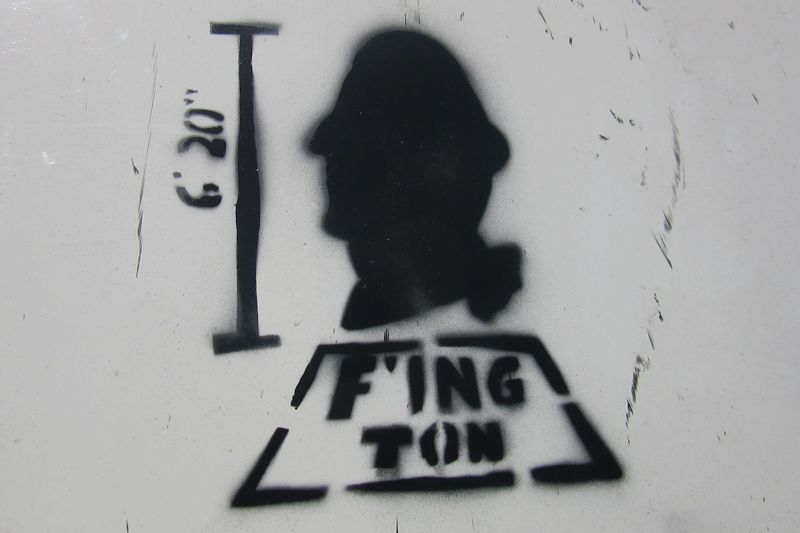 To understand Judge Eric's stencil for the Pacific Northworst race in Washington, you need to watch the following video: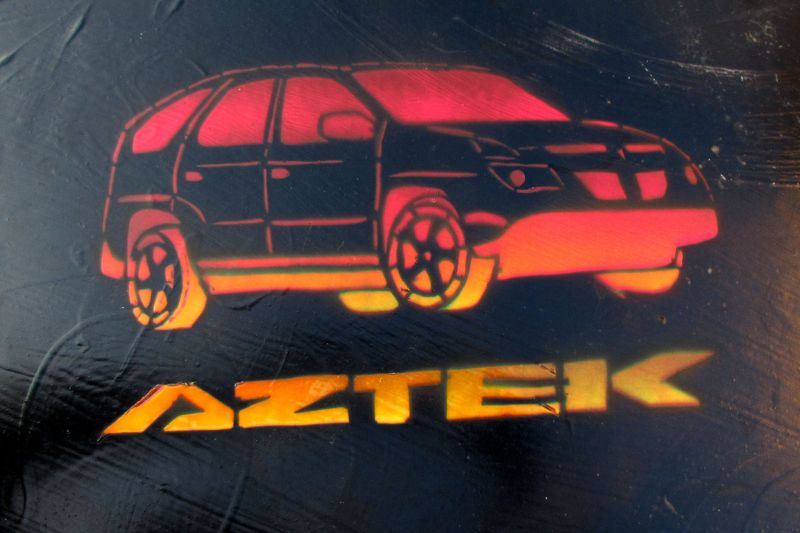 Sometimes we'll make a stencil honoring a vehicle we love, or that we'd like to see competing in the series. The latter was the case with this Pontiac Aztek stencil, which I made for the South Fall race. Happily, we had our first Lemons Aztek a couple of months later.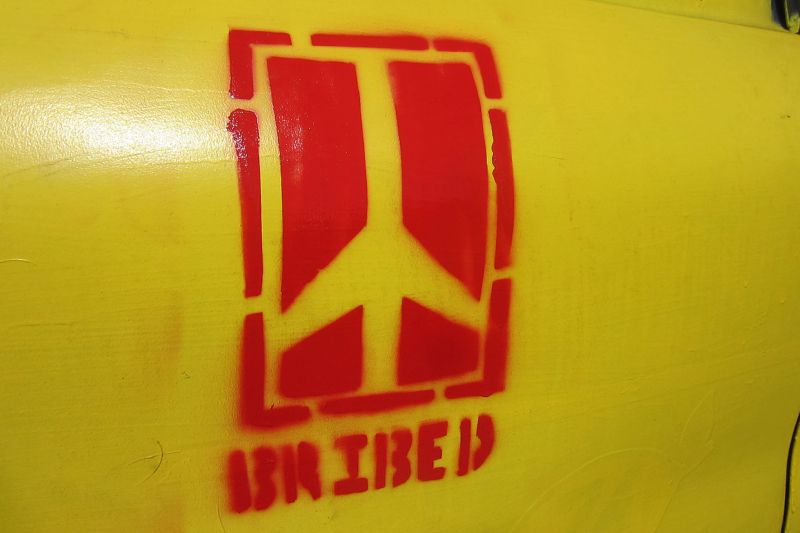 We'd be happy if 90% of the entries in a given race were Oldsmobiles, and Judge Eric displayed our love for the 19th-century marque in his stencil for the Button Turrible race.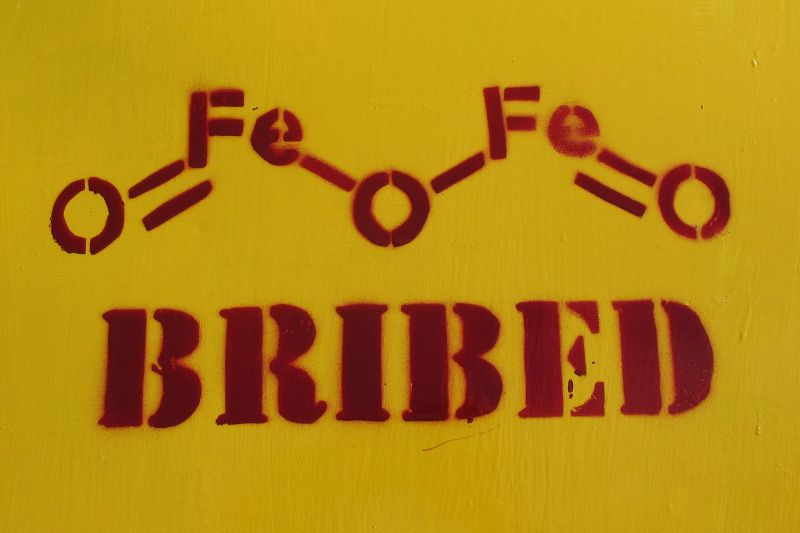 It turns out that what we call "rust" comes in several chemical flavors (all of which are well represented in Michigan), so I chose the coolest-looking structural formula for the Where The Elite Meet To Cheat stencil.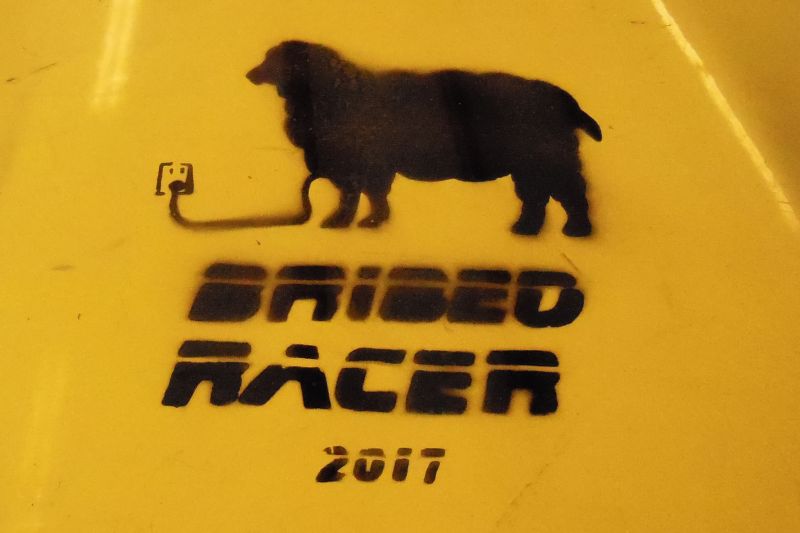 Judge Rich likes Philip K. Dick's work and encourages racers to do Dickian themes, so he went for an Electric Sheep image for his Halloween Hooptiefest stencil.

We want more Ladas in the 24 Hours of Lemons (so far there is just a single example of the beloved Soviet marque in our series), so I made this stencil for the Arse Freeze-a-Palooza. подкупленный!

Way back in 2013, Lemons Operative Kim Harmon found herself unable to pronounce the word "scrotum" in a race-wrapup video. Soon after, Speedycop did a Scrotium theme at the first Alabama race, and this theme included a Periodic Table with Scrotium-21 substituting for Scandium. The "Happy Nutz" image from this Speedycoppian artwork made its way into my Kim Harmon Scrotium 500 stencil.

For the history of Lemons BRIBED stencils, check out the 2008-2011 stencils, 2012 stencils, 2013 stencils, 2014 stencils, 2015 stencils, and 2016 stencils.