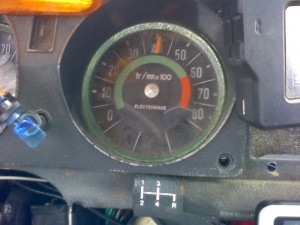 As we saw in my TTAC post earlier, LeMons Legend Spank set out on his 2,800-mile San Diego-to-Miami Citroën DS road trip this morning. In the meantime, he's been sending me regular updates via text message. Right now he's about 100 miles out from Texas, where he plans to spend the night… if the water pump holds out.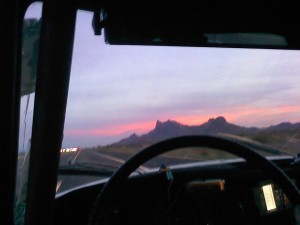 For most of the day, the Citroën's clutch seemed to be slipping. It had been slipping since the Sears Pointless race last spring, but the problem seemed to be getting worse… and you won't be finding a DS19 clutch in New Mexico on a Sunday night.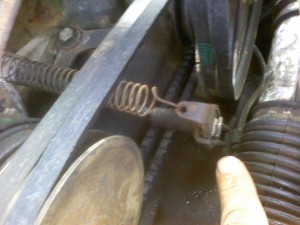 Fortunately, the folks on the 24 Hours of LeMons forums have been following along and offering advice, and the guys from Pendejo Racing called Spank up with some clutch-adjustment advice.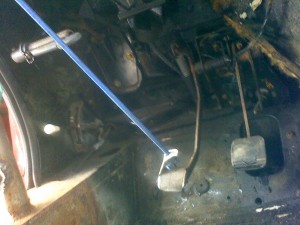 It appears that the clutch return spring was weak, allowing the weight of the pedal to cause enough clutch disengagement to cause some slippage. A bungee cord on the pedal solved the problem. Thanks, Pendejos!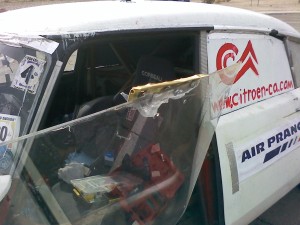 Meanwhile, gusty winds in Arizona kept trying to remove Spank's temporary plastic side windows. Finally, they succeeded; the passenger-side window is long gone.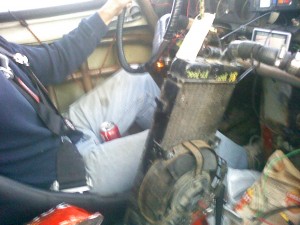 Fortunately, there's a Field Expedient Engineering heater installed near Spank's right leg.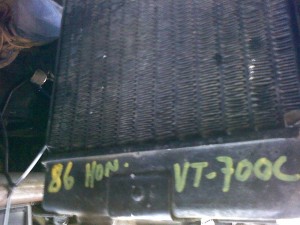 That appears to be a Honda motorcycle radiator, with random junkyard electric fan blowing through it.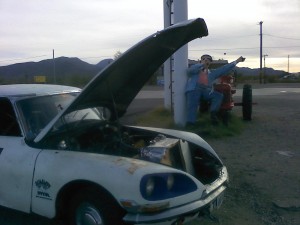 Repairs seem to be taking place in your typical surreal desert locales.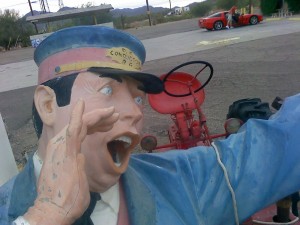 I have no explanation for this.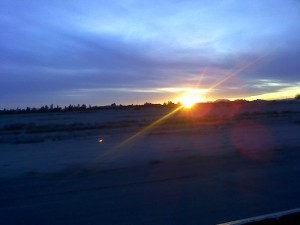 The plan is to make it to El Paso, about 720 miles out of San Diego, tonight. Tomorrow, the goal appears to be Houston, where many LeMons racers are geared up to help make whatever repairs will be needed.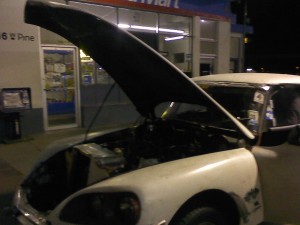 Of course, the car has to make it to El Paso first. Unfortunately, the radiator turned out to be bone dry at the last gas stop. When he added water, in Spank's words, "3 cast in pin holes in water pump are venting steam and water when full. Bad pump seal maybe?" We'll find out more later.