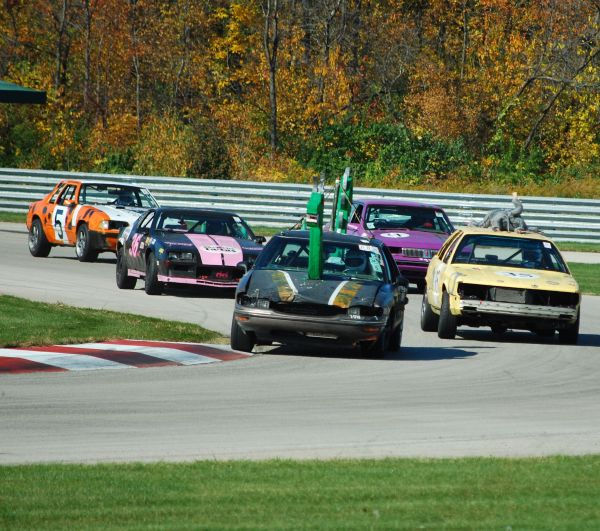 You've seen the Showroom-Schlock Shootout Über Gallery and the official results, but those things don't always tell the entire story. As Official Historian of the 24 Hours of LeMons, I'm here to fill on the blanks on what happened at the Autobahn Country Club Joliet last weekend.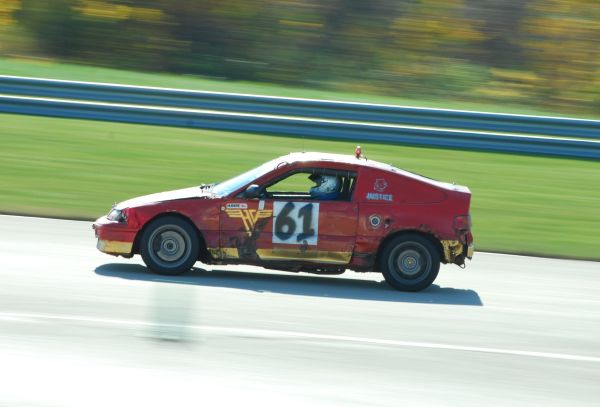 Winner On Laps and Judges' Choice: Clueless Racing
I might as well do these in the order that we follow during the post-race awards ceremony, so here's your Showroom-Shlock Shootout winner on laps: Clueless Racing. This CRX took the lead a few hours into Saturday's race session, which has happened many times during the 18 months since Clueless won the '10 American Irony race. Unlike most of those other races in which they took an early lead, however, the Clueless CRX neither blew a head gasket nor threw a connecting rod. When the checkered flag came out, they'd won by five laps. As for how they managed to get the Judges' Choice, read about the reasons Clueless got a 2010 Ununhexium Legend of LeMons medal.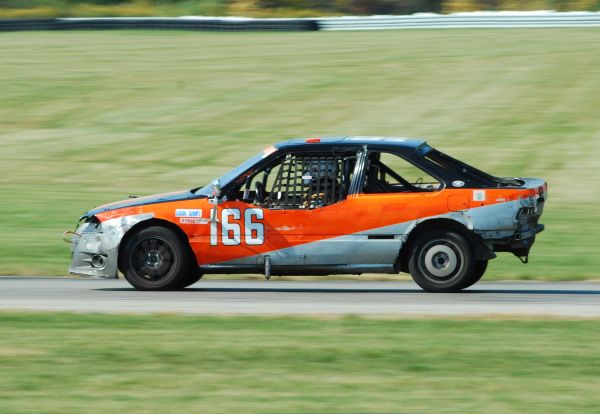 Class A (Good) Winner: Holy Rollers
This '88 Integra set the fast lap of the race (1:43.901), which was more than 3 seconds quicker than anybody else's best lap. We were quite suspicious about possible suspension cheats, until we learned that one of the drivers is a well-known IndyCar driver whose name I can't recall (other than LeMons, the only race series I follow is the Butcher Holler Work-Release Program Figure-Eight School Bus Chain Racing Challenge). As we saw when Randy Pobst turned a terrible MGB-GT into an E30-eating monster, drivers are more important than cars. Yes, Honda products in the first three positions, something that I'm pretty sure has never happened before in LeMons.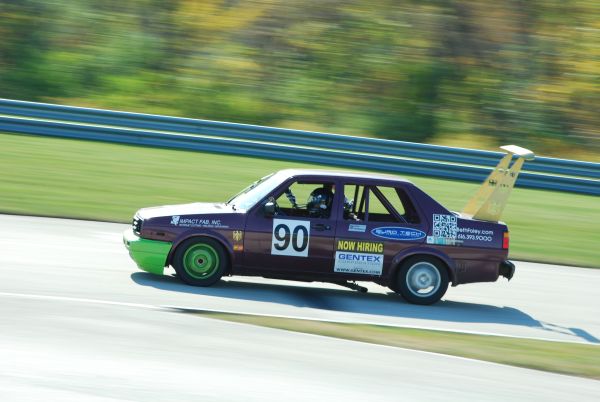 Class B (Bad) Winner: Euro Trash
These guys won the Organizer's Choice at the Campaign To Prevent Gingervitis, due to their good humor in the face of repeated nuked engines (one of which tossed a rod during the tech inspection's kill-switch test). At the Showroom-Schlock Shootout, their Jetta ran strong and the team managed a 14th-overall finish against an extremely tough field, beating the Byte Marx Escort by 7 laps.


The Euro Trash Jetta featured a pair of Berlin-club-style waving hands, one of which got knocked off and run over multiple times on Saturday, but it was rescued by the track staff and returned to the team for reinstallation. Sorry about the slo-mo video; I forgot to switch the camera to normal-speed.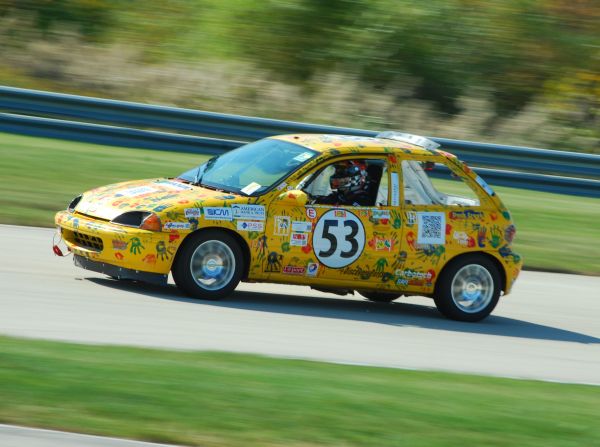 Class Ugly (C) Winner: LeMonAid Racing
This 3-cylinder '96 Metro finished 21st out of 98, an achievement that took LeMonAid Racing to the very brink of the Index of Effluency. Unfortunately for the Metro team, a car this new needs to do like
the Exhibition of Slow Tercel EZ
and at least get near the top 10 in order to grab the IOE at a race with as many effluent entries as this one had. Still, the Metro beat the second-place Class C car by a whopping 16 laps.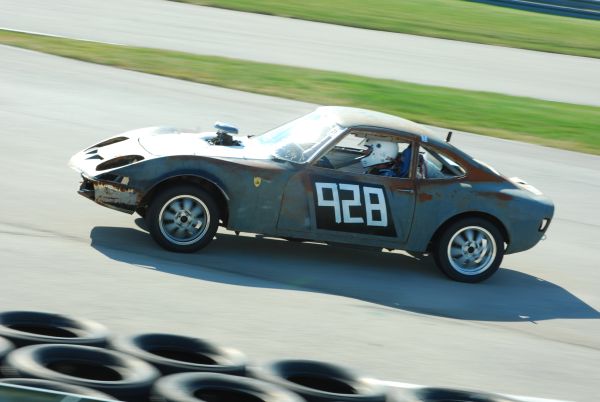 Most Heroic Fix: Scuderia Craptastic
Bringing an Opel GT to an all-weekend endurance race is bad enough. Swapping in a Mazda rotary engine makes it much worse. Trying to run that engine with a grungy Harley-Davidson sidedraft carburetor is just
masochistic
. Not very surprisingly, the Harley carb didn't work so well, which led to a closing-time run to the nearest junkyard. About 20 hours of panic-stricken wrenching later, a grungy Ford Ranger carb had been kludged into place atop a butchered-up intake manifold adapter… and the car ran! Not very well, and it overheated every five laps or so, but it did run.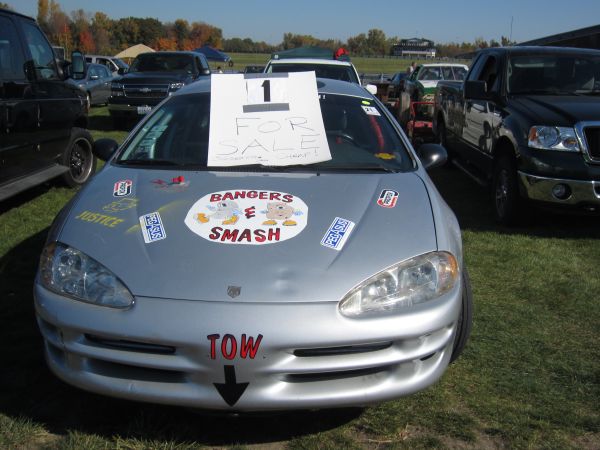 I Got Screwed: Bangers & Smash
This team's captain threw a cage in his wife's strong-running '00 Dodge Intrepid and looked forward to a weekend of 24-valve-V6-powered racing. Second lap of the race: kaboom! This should not serve as a cautionary tale to future
Chrysler LH platform
racers. Well, actually it should, but keep those Concordes and LHSs coming!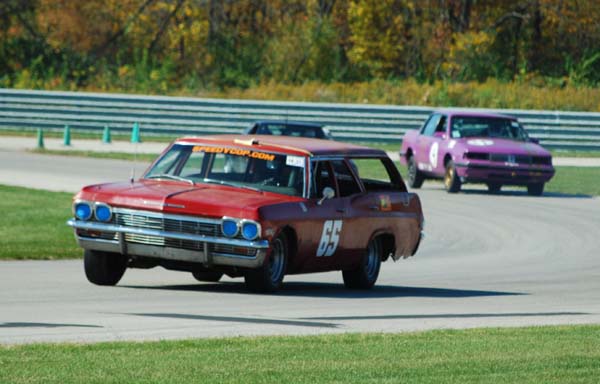 Speaking of getting screwed, the very close runner-up for this award was
Unununium Legend of LeMons
Speedycop
and his Gang of Outlaws. After prepping and racing a locally-obtained '65 Impala wagon at the
'11 Detroit Irony race
(the complete story, which is way too long to get into now, may be read
here
), Speedycop and several of the Outlaws arranged with the car's owner to fly to Chicago from Maryland and race the car again. The Impala's owner stopped answering his phone a couple days before the race and showed up with the car nowhere near ready late on Saturday. I'll tell the complete story of this horrific screw job later on; the only reason Jay declined to give them the I Got Screwed trophy this time was, in his words, "How is this different from any Speedycop race weekend?"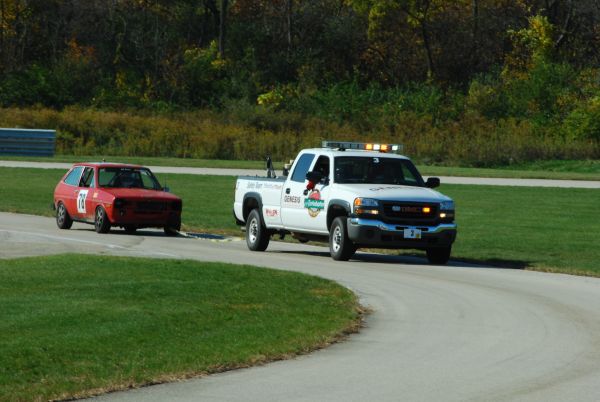 Grassroots Motorsports Most From The Least Award: The Autobahn Country Club Safety Truck
We decided to put a transponder on the safety truck, and it did 52 laps over the course of the weekend. This was good enough for 84th out of 98 entries, which means that 14 teams got stomped by a pickup that spent most of the weekend parked.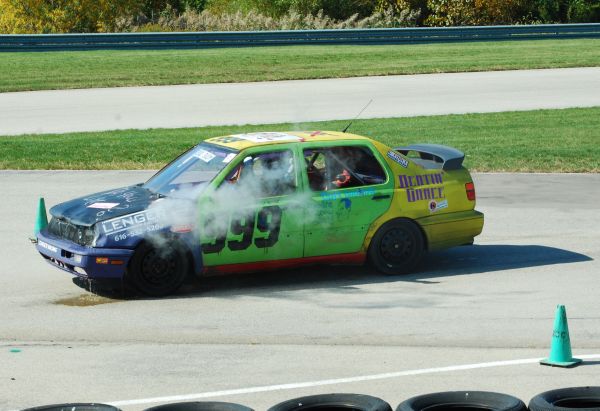 St. Valentine's Massacre Memorial Hooptie-Ass Fix Award: Beatin' Grace
After winning the Judges' Choice at the '11 American Irony race (thanks to an incredible
Skid Row Teletubbies
Penalty Box performance), this Jetta team was doing just fine at the Showroom-Schlock… until they spun a rod bearing. They couldn't find any replacement parts, so they decided to make rod bearings out of Simpson construction strapping material.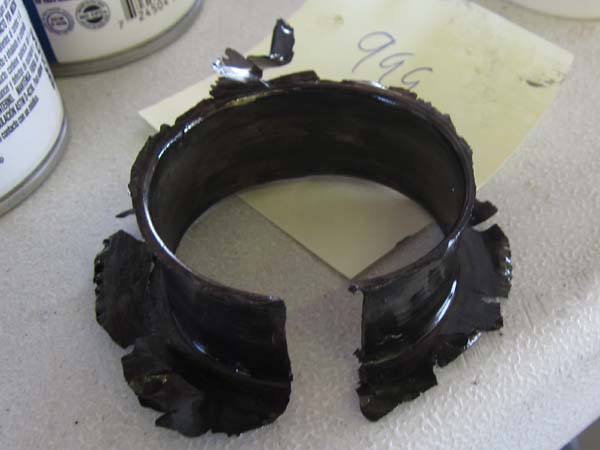 Beat the strap into a roughly circular shape, do some grinding, and voila! New rod bearing! Amazingly, it worked for four laps before letting go. This photo shows the "after" picture of said bearing.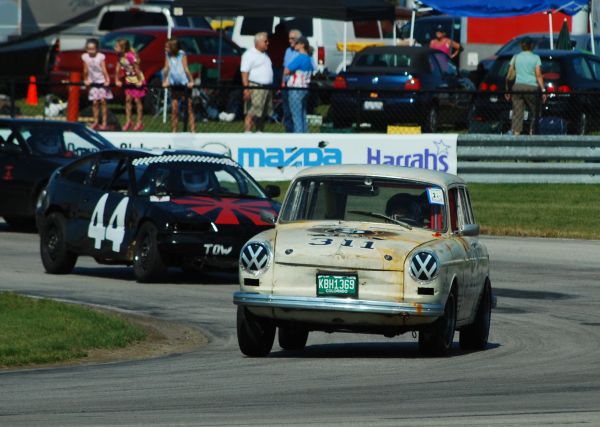 Organizer's Choice: SchnitzelWagen
We've had a Volks Type 3
win the Index of Effluency
in the past, but that was a 39th-out-of-123 deal. The SchnitzelWagon took 79th out of 98, which got it into the IOE conversation but couldn't quite measure up to the Oldsmobiles above it. Still, this rusty Squareback ran all day Saturday… right up to the moment when the splines on one of the rear axle hubs let go. They searched and searched for replacement parts, but ancient non-Beetle air-cooled VW parts aren't exactly easy to come by in Illinois on a Sunday. So they could take the checkered flag, the team drilled a hole through the hub and axle, pounded a bolt through the hole, and took the car out on the track that way. It failed, of course, and they had to be pushed off the track, but still: Organizer's Choice!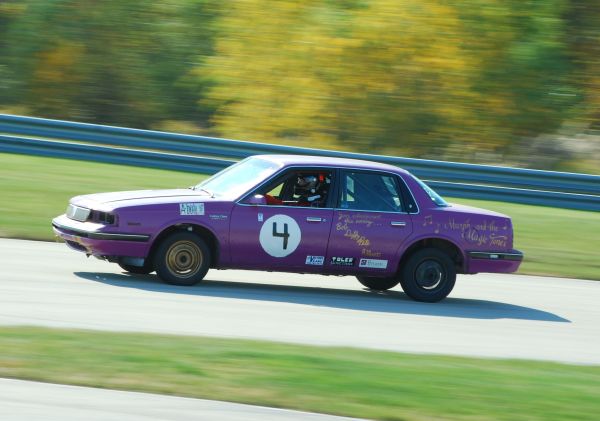 Index of Effluency: Racing 4 Nickels
I tell you what, those of us at LeMons HQ had a helluva time picking the IOE for this race. There was the Racing 4 Nickels Cutlass Ciera, the 98ers Olds 98, the LeMonAid Metro, and the SchitzelWagon Squareback, plus some edge-case cars like the Stinky Rat Trap Audi 200 (which finished 7th, pretty good even for a 20-valve turbocharged Audi, given Audi's miserable LeMons track record). In the end, we judged the Racing 4 Nickels' 48th-place finish to be the most unexpected overachievement. The Olds was quite slow, but the team kept it out there for lap after improbable lap.
Here's what it was like inside the Olds. See, it
did
pass some other cars!