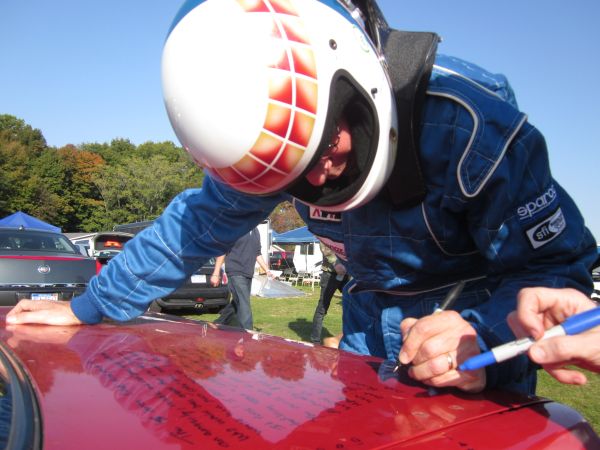 LeMons Chief Perp Jay Lamm has signed a pledge never to write about cars again; he's got it framed and hanging up in his office. He also tends to be extremely harsh on LeMons drivers who happen to be his friends. That means that he's extra cruel to former auto-journo colleagues Csaba Csere, Tony Swan, Tony Quiroga, and Rich Ceppos.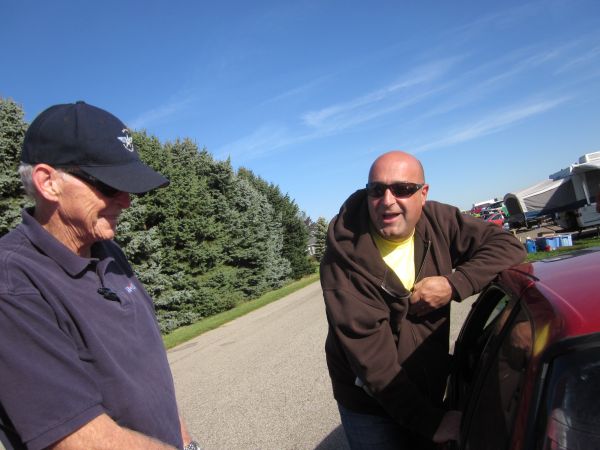 Tony Swan: "So, you're a race promoter now?"
Jay Lamm: "That's right, sucka! So how was the free shrimp cocktail at the Cobalt Brougham Landau launch in East Peoria?"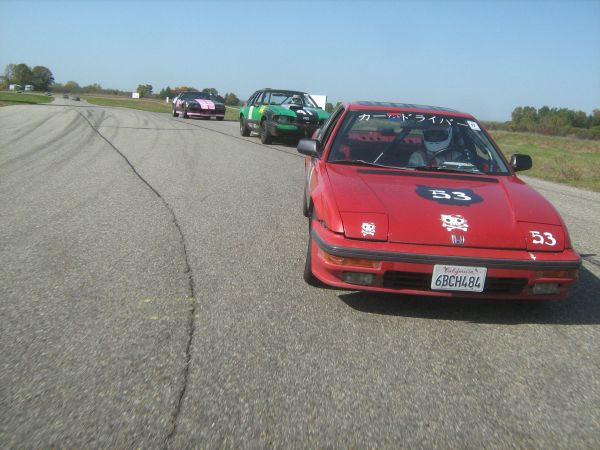 Team Goodbye Kitty Racing showed up with the same semi-terrible '88 Prelude they took to the Detroit Irony race in the spring. The drivers are pretty good, thanks to all that free track time they've enjoyed courtesy of the automobile industry… but not good enough to stay completely clean in a LeMons race!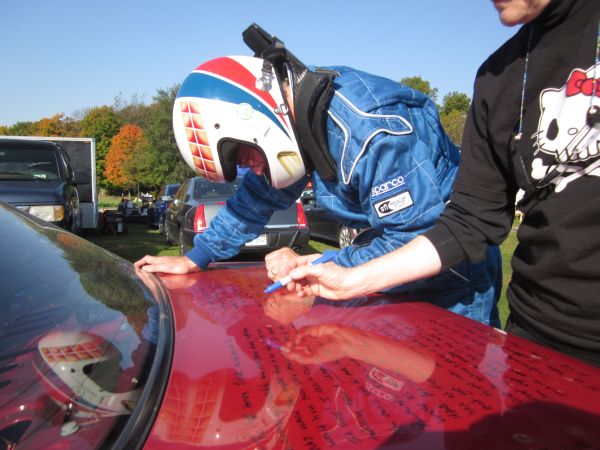 Ceppos was the first to screw up. LeMons Chief Justice Lamm decreed that he would have to write a 500-word review of the 1988 Honda Prelude. In Sharpie, on the body of the car. Since each of the four veteran writers had reviewed the '88 Prelude back in the day, we figured this should be an easy one.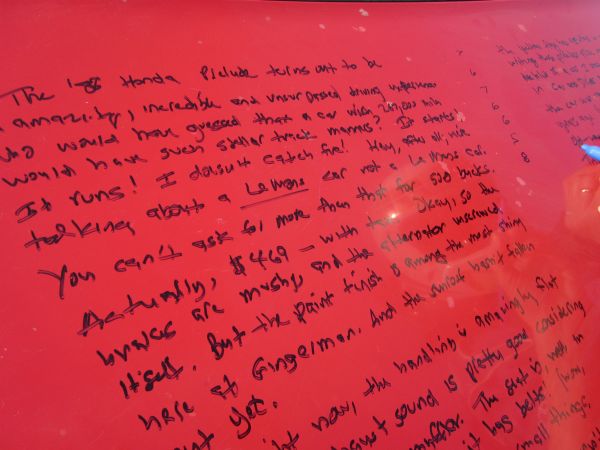 Well, no. Turns out that computer keyboards— or maybe, for these guys, IBM Selectrics— make writers soft! Jay hovered over Ceppos and did the Angry Editor routine all the while, pounding on the roof with his fist and screaming: "We're GOING TO PRESS IN FIVE MINUTES! Come on! Write faster!"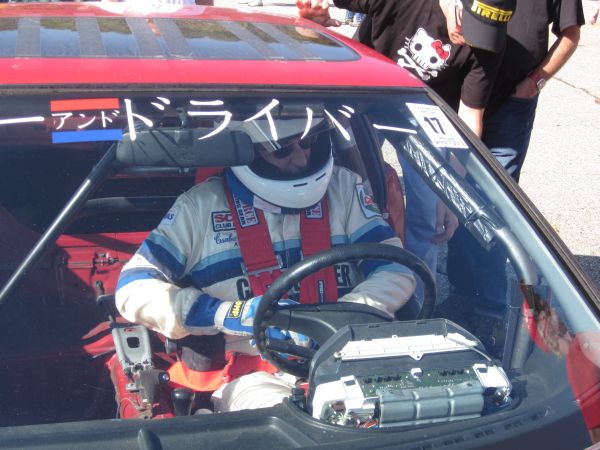 Sadly, Csere managed to avoid penalties during his stints. That's too bad, because we were pretty sure we'd be able to find his original '88 Prelude review online and compare the two.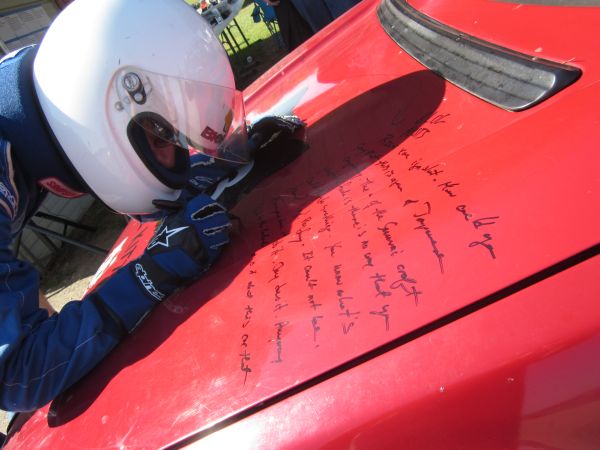 Then we caught Quiroga, whose beautiful Lancia had us all drooling (the other members of the team showed up in freebie press cars, of course). This time, we ordered him to write a blog response to Ceppos' review.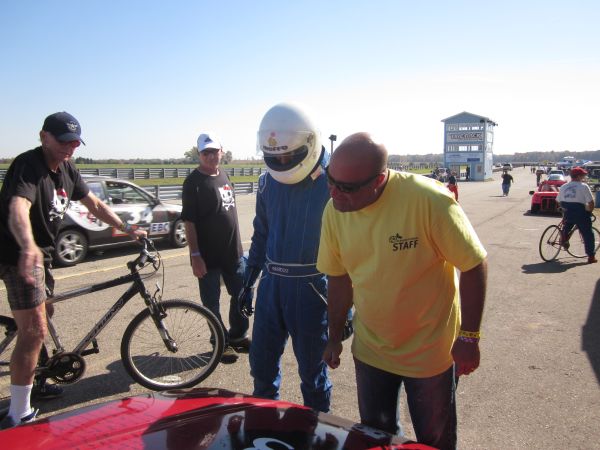 Jay was skeptical, but eventually allowed the Prelude to head back onto the track.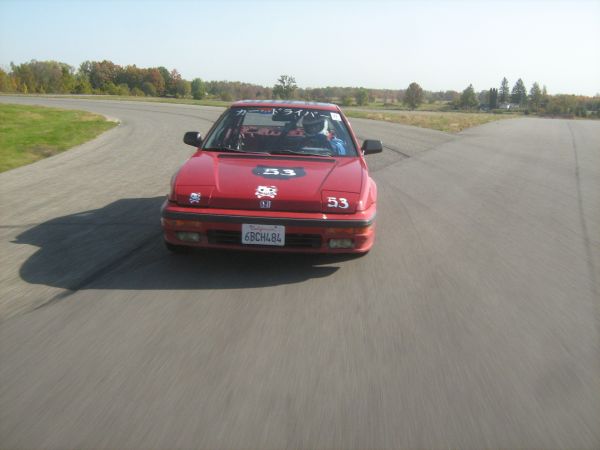 The members of Goodbye Kitty Racing became obsessed with cracking the Top 10, or at least beating the Mike Austin-captained former IOE-winning VW Quantum Syncro. They might have reached both goals, too, if a red-misted Swan hadn't blasted through the paddock at about triple the speed limit… on a flat tire. As it was, the Prelude came in 12th and the Quantum 13th.