The moment we first laid eyes on this '74 Chevrolet Caprice at the LeMons South race last weekend, we
knew
it would be taking home a major trophy.
From the "HIP HOP" grille on the team captain's teeth to the extremely violent pneumatically-operated air brake on the trunk lid, this fine race car had the Organizer's Choice trophy sewn up as soon as it arrived.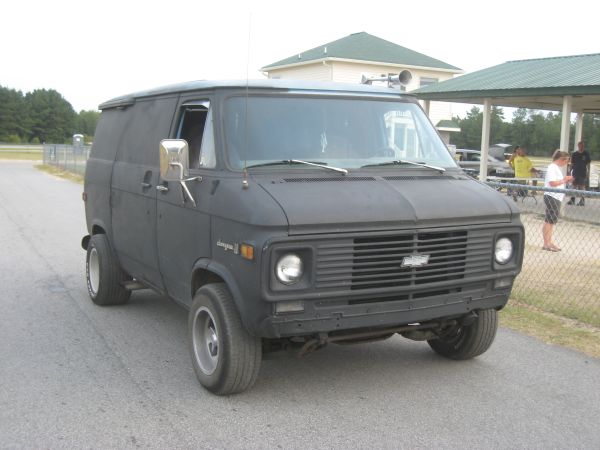 You may remember Big Ghetto Skank Tank Team Captain Hip Hop as the owner of the amazing
Chong-autographed Molester Van
we saw at the LeMons South Fall '09 event. Back then, he was driving the
USS Enterprise Ford LTD
.
Note the donk-esque spinner hubcaps, which lasted about 0.09 seconds on the race track but were still very impressive.
There was talk about giving the Big Ghetto Skank Tank the coveted Index of Effluency trophy, but a 79th-place finish (out of 101 entrants) wasn't quite IOE territory. The problem was that the BGST leaked fluid from every possible location and was black-flagged countless times for various oil-spilling and/or smoking offenses. Still, it managed 240 laps on a very demanding track!
The roof-mounted radiator looked pretty effective; as far as we know, overheating was the one problem the Skank Tank
didn't
have during the weekend. Congratulations, Team Big Ghetto Skank Tank!