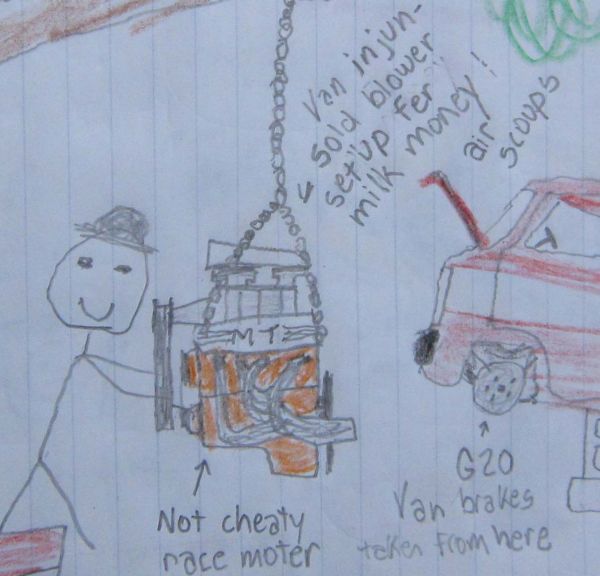 I approve of the all-steel body kit, and just about everything else, on the Van Buren Boys G-Body Cutlass, but I've had some questions about them boys' so-called 500-buck budget in the past. Unless they've found a magical 1/4-price junkyard in their hometown, something about the numbers ain't quite addin' up. With my skepticism in mind, they provided a handy illustrated guide to their latest upgrades at the 'Shine Country Classic a couple months back.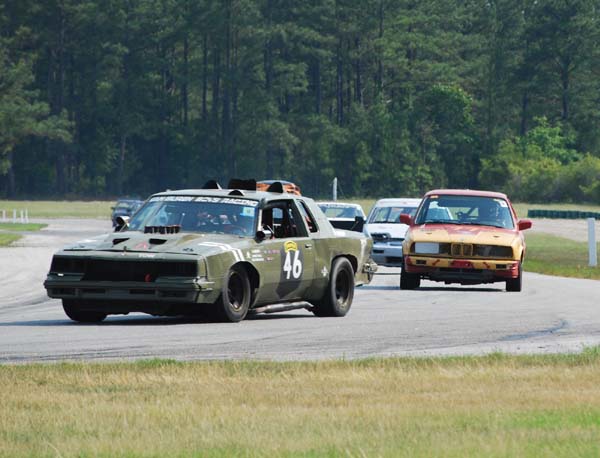 This Cutlass is pretty quick, finishing the race 15th overall and getting a best lap time just about a second slower than the winner. Sure, it's possible to get G-body and small-block Chevy parts cheap, but you have to convince the LeMons Supreme Court that your accounting doesn't smell fishy.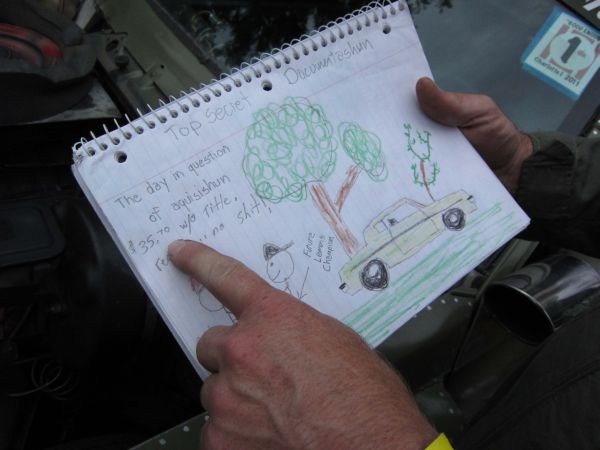 So, the Van Buren boys brought helpful diagrams to the BS Inspection in downtown Camden, South Carolina.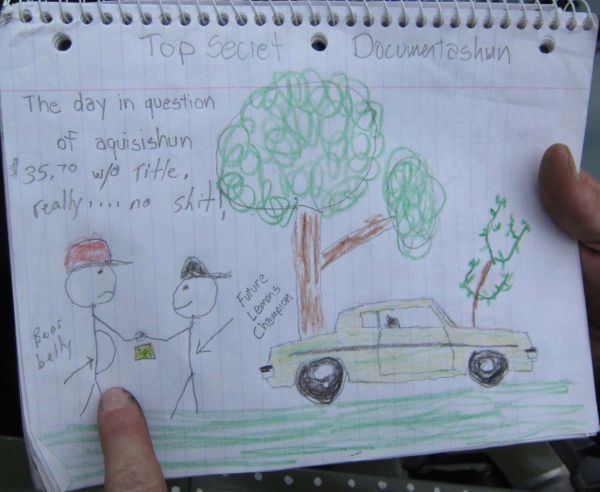 Here's the "Future LeMons Champion" handing $35 to the car's seller, a man with red baseball cap, beer belly, and lack of understanding that scrap steel sells for $250/ton.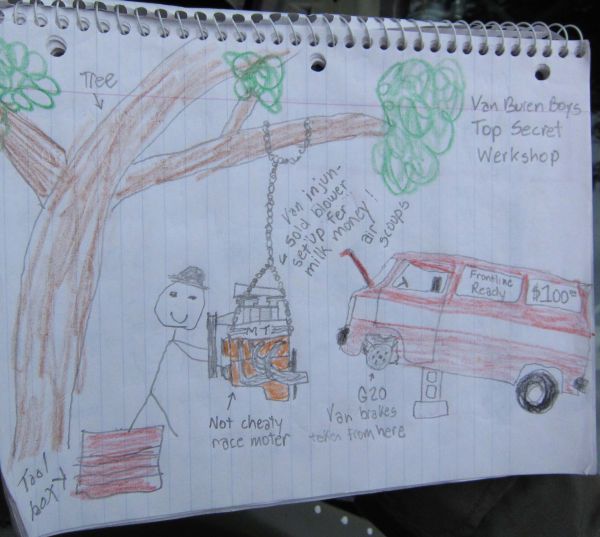 As for the "injun" and brakes, the Van Buren boys found a GMC G20 van. A tree served as an injun hoist. Price: 100 bucks.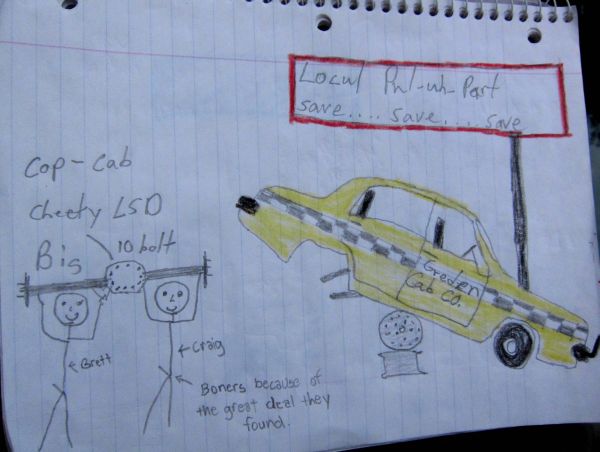 A trip to the "Local Pull-uh-Part" got them this "cop-cab cheety LSD Big 10-bolt."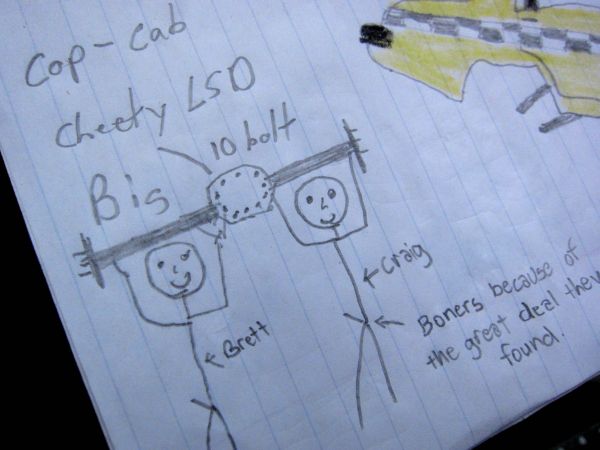 Such a deal!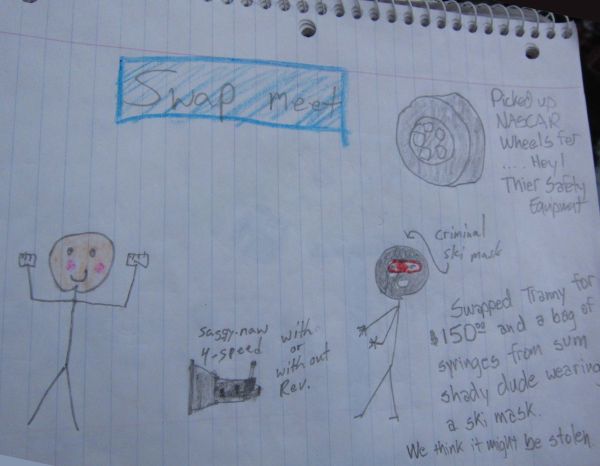 Next stop: Swap Meet, for a "Saggy-naw 4-speed" and some NASCAR wheels. According to the Van Buren boys, they "Swapped tranny for $150 and a bag of syringes from sum shady dude wearing a ski mask. We think it might be stolen."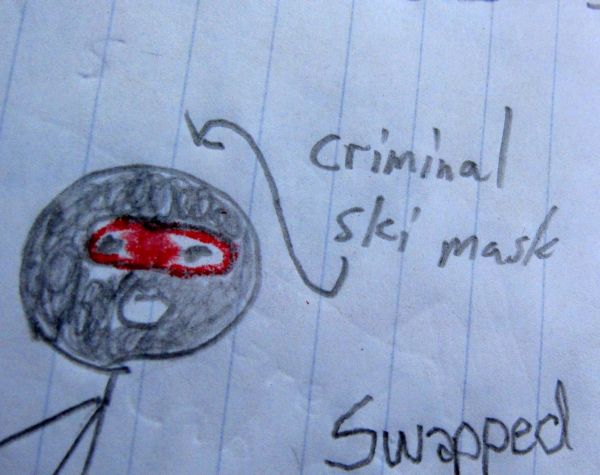 Yes, this does look like a shady dude.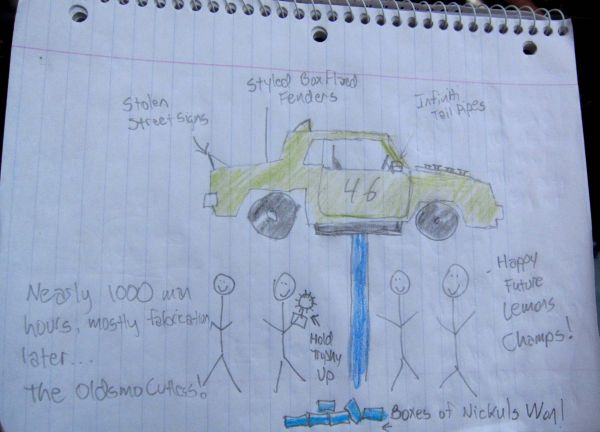 Stolen street signs, Infiniti tailpipes, styled box-flared fenders, and the nickels are as good as theirs! This document served as ironclad proof that the Van Buren boys were close enough to legit that we let them race BS-lap-free. Next time… we'll see.