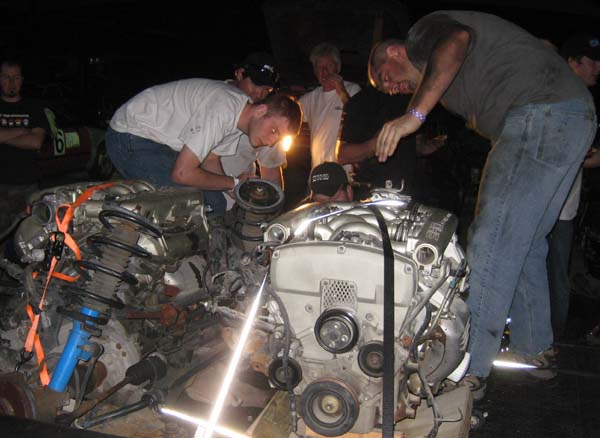 The Heroic Fix award has been around since the early days of the 24 Hours of LeMons, but I've never done a post about all the winners… until today! I didn't attend every single race during the AHF (Anno Heroic Fix) era, and many of the Heroic Fix decisions were made during the panicky few minutes before the awards ceremonies (anyone who thinks Jay and the rest of us put a lot of thoughtful, reasoned debate into trophy decisions would be shocked to see how duct-tape-and-ziptie-style LeMonic the process really is) and thus I can't remember all of them. That means some of the winners don't get detailed descriptions.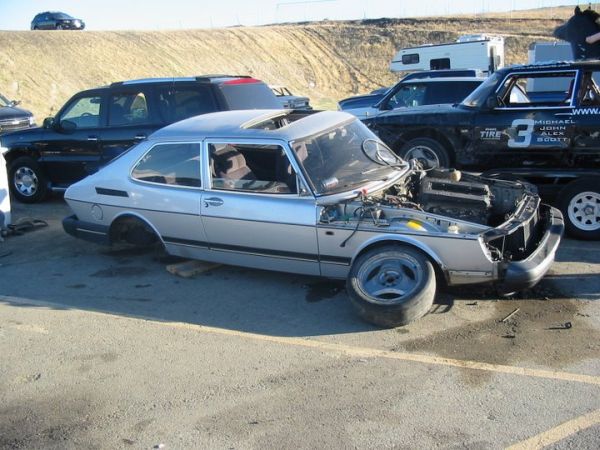 Altamont Fall '07: Saabs Gone Wild
This two-car team ended up cannibalizing their daily drivers for parts, then blew up some more.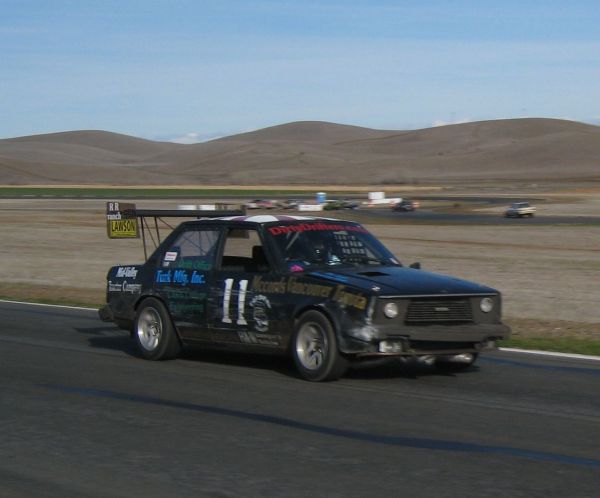 Arse Freeze-a-Palooza '07: Dirty Drifters
Multiple engine swaps, multiple 250-mile junkyard runs.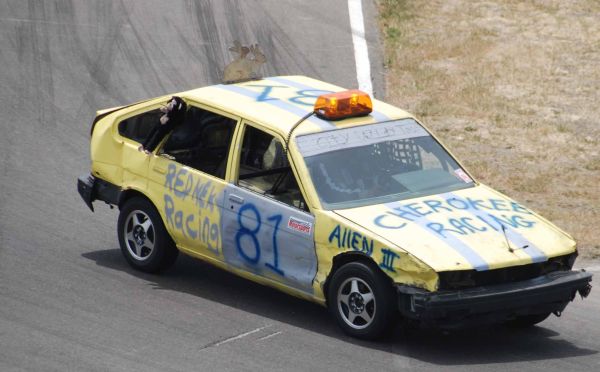 Altamont '08: Wicked West Racing
This team destroyed car #1, worked on it for a while before realizing the hopelessness of it all, then scraped up another car and bashed it into quasi-raceworthy condition in time to clank back onto the track.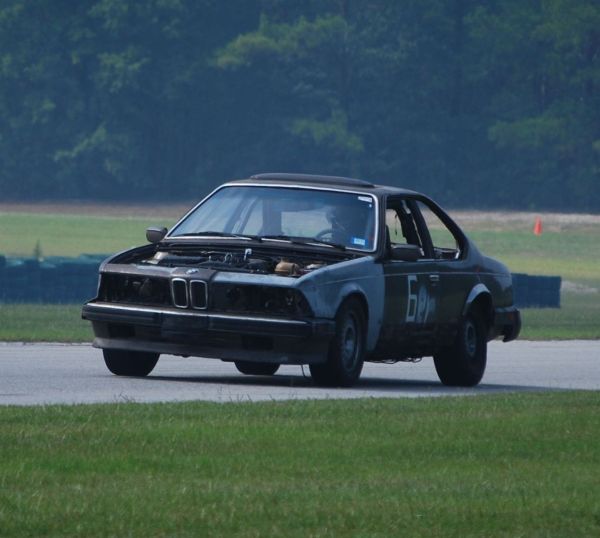 South '08: BMWTF?
After an agonizing search for a replacement for their grenaded engine, the BMWTF? team then had their rear suspension destroyed by a spinning Mustang. After (sort of) fixing the damage, they proceeded to blow up Engine #2.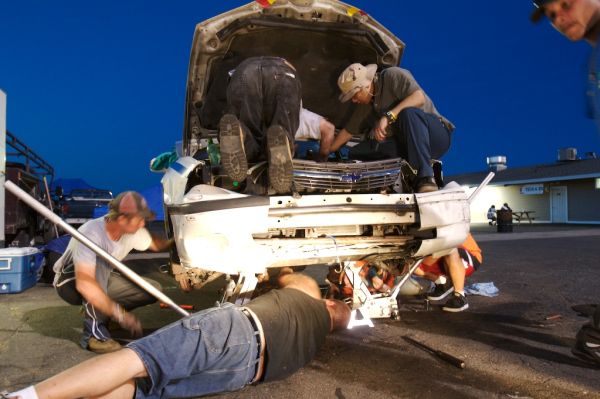 New England '08: Vlad The Impala
Cops use front-drive Impalas for police cars, so they must be sturdy and reliable. Right? That's not how things worked out for Vlad The Impala at the first-ever 24 Hours of LeMons New England race. What went wrong? What didn't go wrong?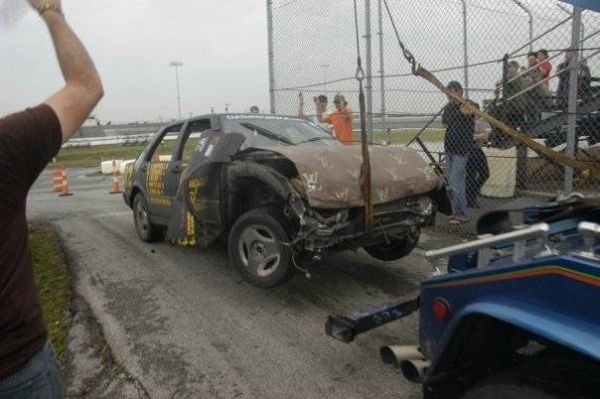 Detroit-ish '08: Cougar Bait
I didn't go to this race, but Nick's photos make it clear that multiple mechanical problems and at least one horrific wreck were involved. I believe this is the same Saab that was leading the Rod Blago 500 at the beginning of Sunday, got pulled from the Top Ten starting grid for a huge oil leak, and was never heard from again.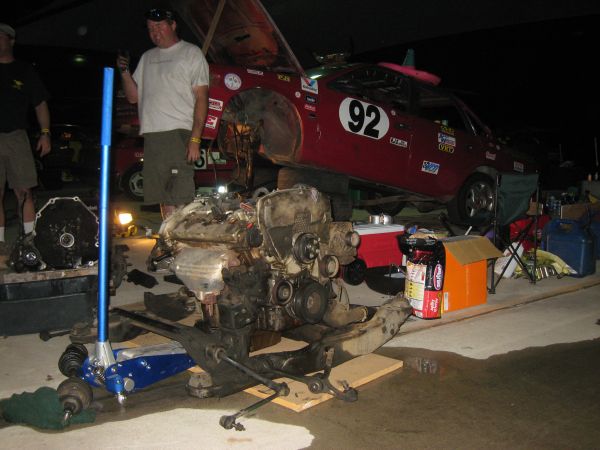 Yeehaw It's Texas '08: El Toro Loco
Did you know that Taurus SHO engines have to be swapped from under the car? The members of Team El Toro Loco— and, in fact, just about every SHO team— know this! El Toro Loco blasted the engine on Saturday, but the team was able to find a replacement sitting in some dude's driveway a few counties away. Using big stacks of tires to support the car, they proceeded to scatter 50,000 parts around their pit space… but they had the thing running the next day!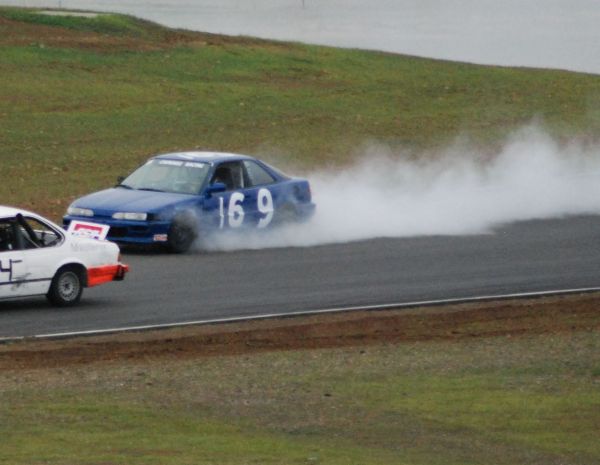 Arse Freeze-a-Palooza '08: Cherokee Racing, Acura Integra
Engine swaps. That's all I remember about this hopeless Acura.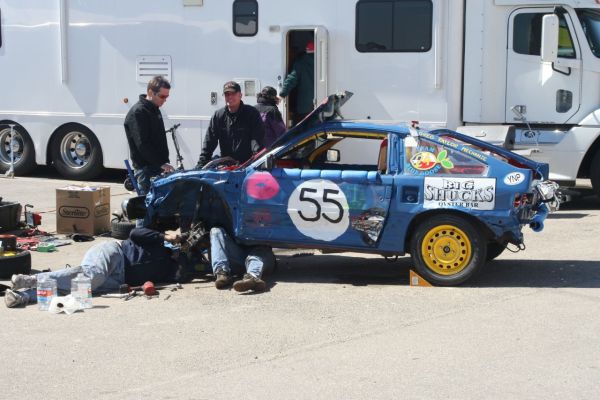 Gator-O-Rama '09: Team Blue Goose, Honda CRX
This Altamont veteran moved to Texas, at which point it became possibly the least reliable race car in LeMons history. I can't recall how many engine and/or suspension and/or transaxle swaps they did at the first Gator-O-Rama, because I don't think I've ever seen this car not up on jack stands with a bunch of dudes swarming over it, but I'm sure it was plenty.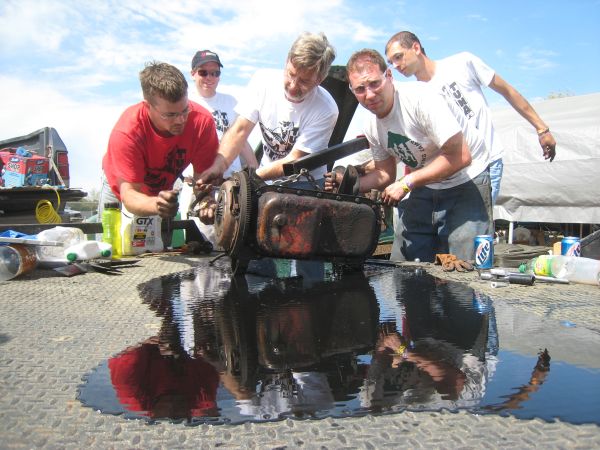 South Spring '09: Tunachuckers
This shot of the Volvo Amazon-driving Tunachuckers swapping their dead engine for a replacement of unknown condition in 90 minutes is one of my favorite LeMons photos of all time. Yes, the "new" engine worked!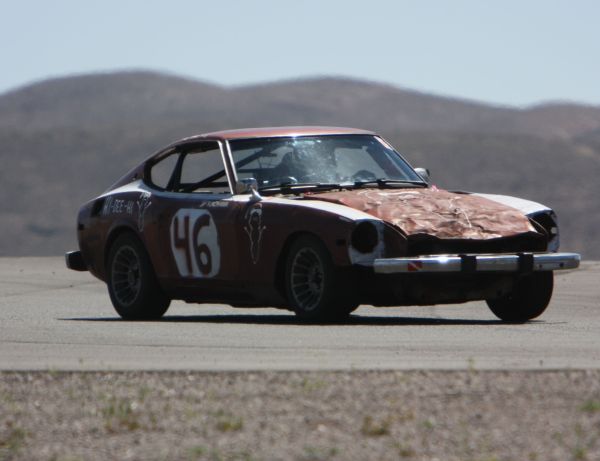 Goin' For Broken '09: Hanky Too
The Datsun Z is another one of those rip-your-heart-out unreliable LeMons cars; I can't remember exactly what went wrong with this Altamont veteran at Reno-Fernley, but I'm sure it involved multiple and unrelated major failures.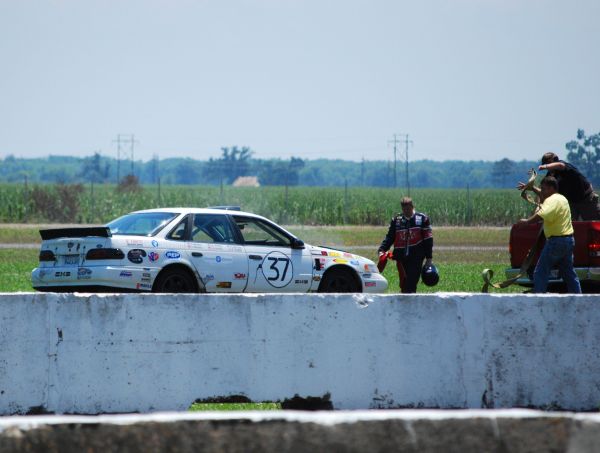 Laissez Les Crapheaps Roulez '09: Team Zip Tie
Engines, transmissions, brakes; if you can melt it, shoot a rod through it, or shatter all its metal components, Team Zip Tie did so during this race. After cannibalizing the other dead SHOs for parts, TZT managed to return to the track after each seemingly-fatal mechanical failure. Such is the life of a Taurus SHO racer.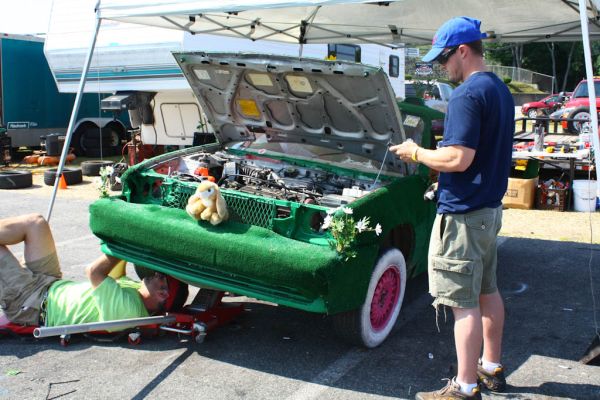 New England '09: Go Green Racing
I didn't judge this race, so I can't say exactly how this CRX team earned the HF. However, based on my observations of the entire Civic family in LeMons events, I think it's a safe bet that multiple head gasket and/or engine swaps were involved.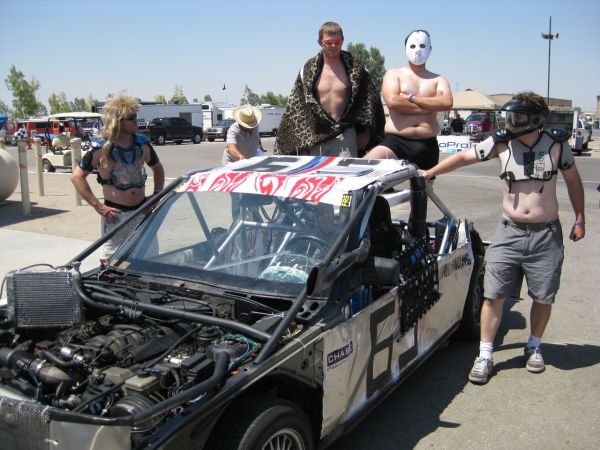 Buttonwillow Histrionics '09: Black Iron Racing: Beyond Thunderchrome
Black Iron Racing's de-bodied BMW 540 won the People's Curse at Buttonwillow, and this time the destruction took the form of a mob of 120 dudes with one wrench apiece being allowed three minutes to dismantle the car. Somehow, Black Iron managed to get the car back into running condition within a few hours.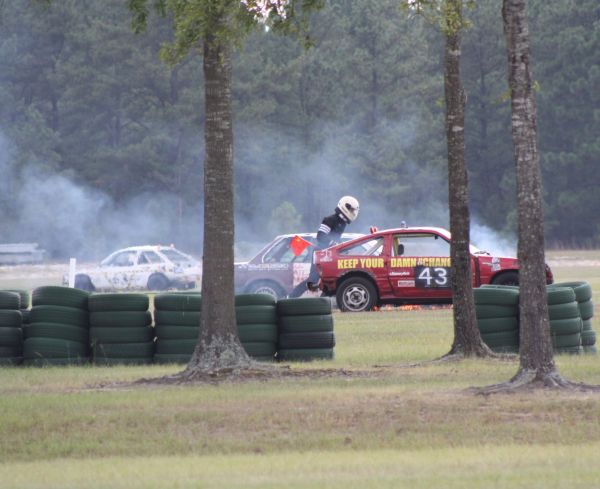 South Fall '09: Hong Norr
Hong Norr holds the current record for most engine swaps performed during a LeMons race: five! They're Civic drag racers, and so they have a limitless stash of engines with nitrous-induced rod knocks in their trailer. Once they blew the good engine, they started in on the questionable engines. Ten minutes of racing, then KABOOM! No problem, plenty more engines where that came from! Repeat endlessly. Collect trophy.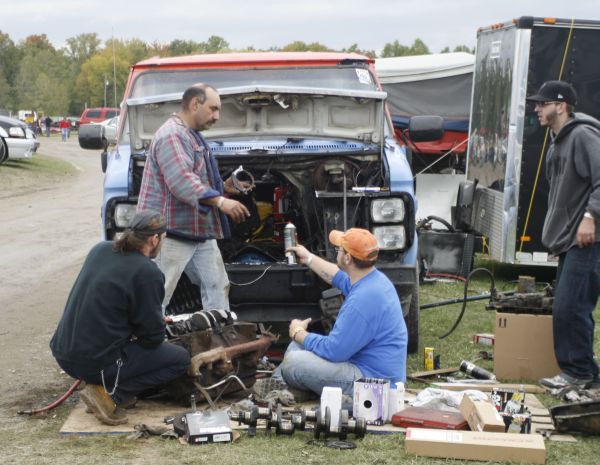 Lamest Day '09: Morrow's Auto and Snoopy's Quest For The Holy Nickelbag
Morrow's Auto done blowed up the engine in their GMC van during pre-race practice, then spent about 24 straight hours, in the Verdun 1914-grade mud at Nelson Ledges, swapping random junkyard small-block parts until they had a semi-running powerplant.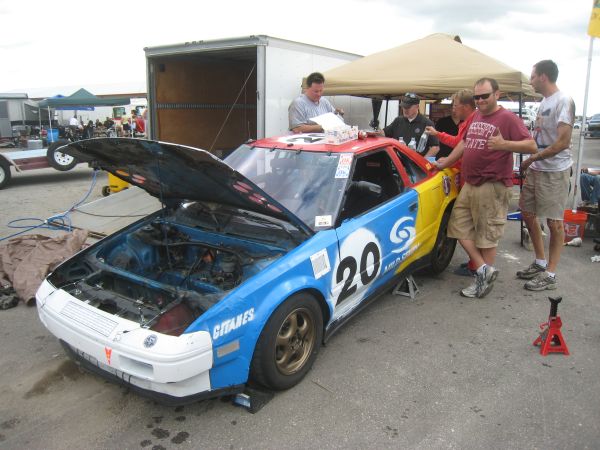 Yeehaw It's Texas '09: Tobacco Advocacy Racing Program
The MR2 has proven to be one of the most painful LeMons vehicle choices; it tends to overheat and/or have oiling problems, and the engine location makes any repairs a total nightmare. I don't recall the details of TARP's heroic fixing at this race, but we can assume it involved multiple engine swaps and every knuckle on the team being sans skin by the end of the weekend.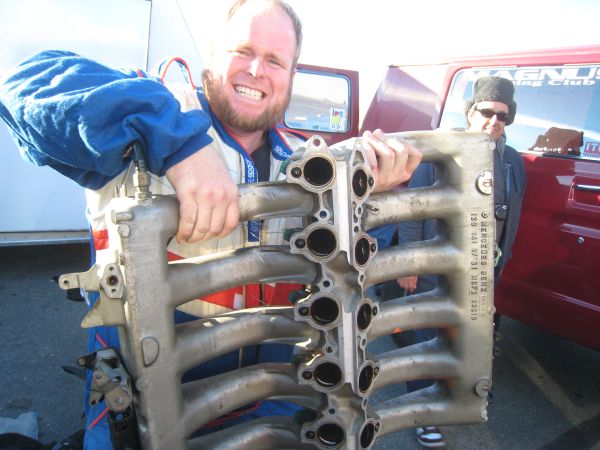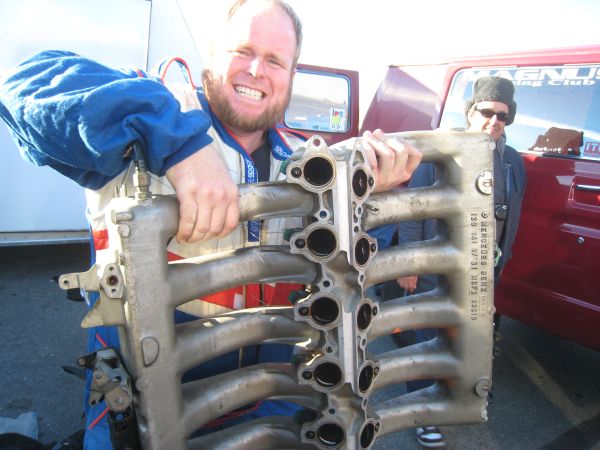 Arse Freeze-a-Palooza '09: Diplomatic Immunity
One of the greatest LeMons entries in history, this tainted-by-Paraguayan-drug-smuggling S600 popped some 3″ hose deep in the guts of its mighty V12 engine, and the repair required about 19 hours and the removal of 11,000 proprietary fasteners.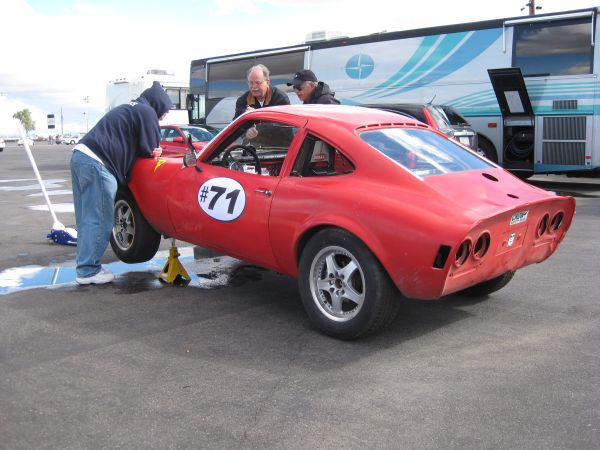 Auction-Weekend Gavel-Trap '10: Calzone II
Bring an Opel GT with a Buick V6, wrench all weekend. It's the law.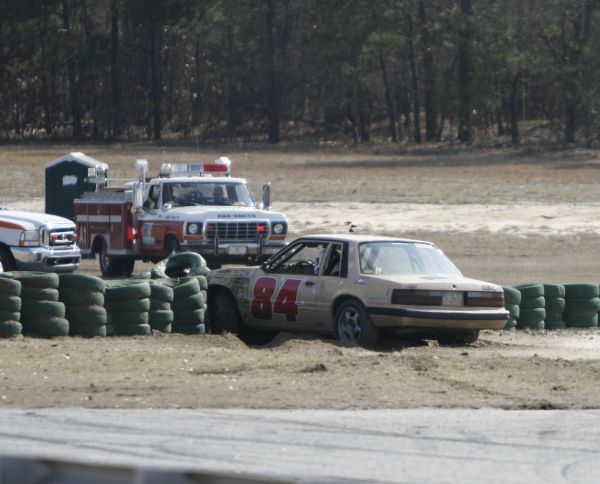 Southern Discomfort '10: Team Fustercluck
After shooting a couple of connecting rods through their Mustang's oil pan and replacing the 302 with a super-Malaise-grade 255 Windsor (the only bolt-in replacement they could find late at night within 100 miles of Kershaw), Fustercluck then proceeded to bash the tire wall. Engine swap and suspension/body repairs, all in the same fun-packed weekend!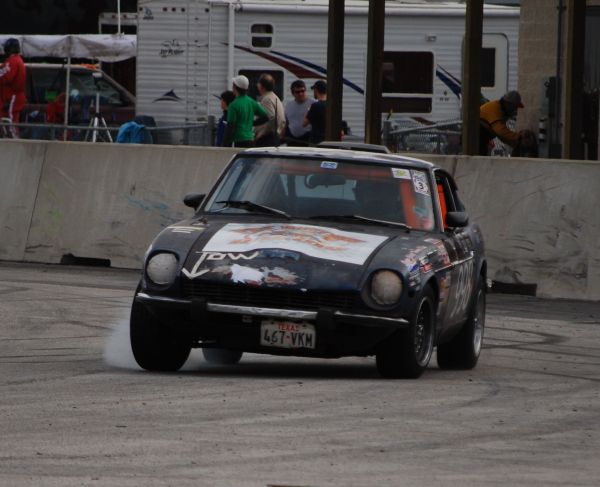 Gator-O-Rama '10: Done Gone Rogue Racing
Another Z, another memory lapse. Sorry, Done Gone Rogue.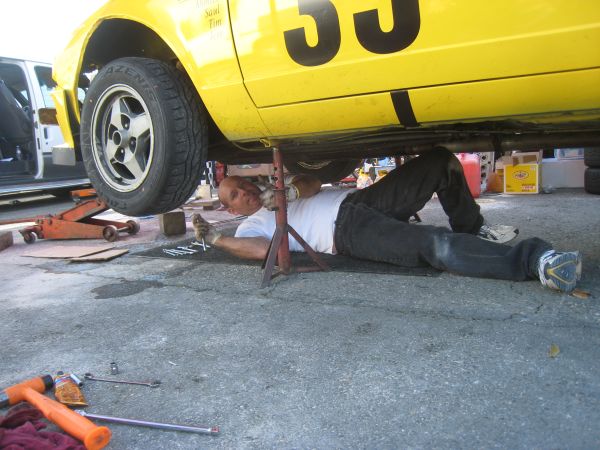 Sears Pointless '10: Team California Mille
Infineon is a real car-killer, and this race's Heroic Fix decision was extremely tough for LeMons HQ. However, the trio of Alfettas of the veteran California Mille team consumed the most gallons of team-member blood, sweat, and tears. Engine swaps. Engine rebuilds. Busted suspensions. Busted transaxles. Electrical problems. In the end, only one of the Alfas was in semi-drivable condition.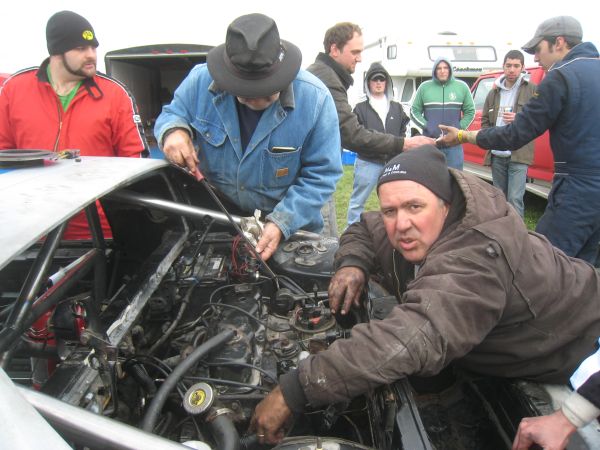 American Irony '10: Double Jeopardy
This was one of the toughest Heroic Fix decisions we've ever had, with the Double Jeopardy Fiero team going up against the Police Brutality '63 Thunderbird for the honors. Double Jeopardy's Iron Duke spun a couple of rod bearings, so the team simply removed the offending reciprocating parts, performed some scary kludge on the fuel-injection system to cut down the amount of fuel being delivered to the now-two-cylinder engine, and went back out on the track. Then they spun another bearing, but did they give up? Hell no! They converted the engine to a one-banger and kept racing.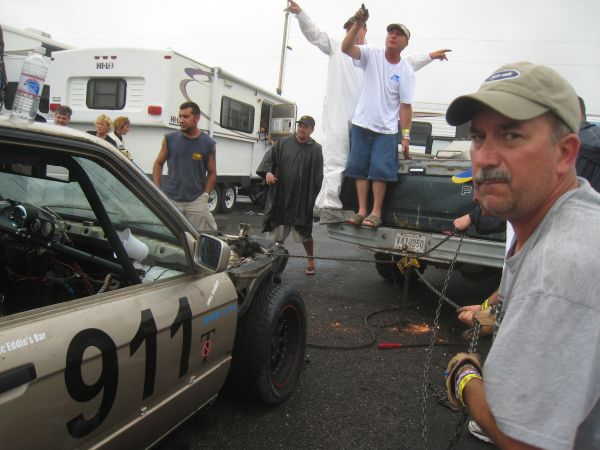 Cain't Git Bayou '10: Who Dat! Shrimp and Boots
The complete story of how these LeMons Legends earned their trophy may be found here. I'm just glad no emergency-room visits were involved.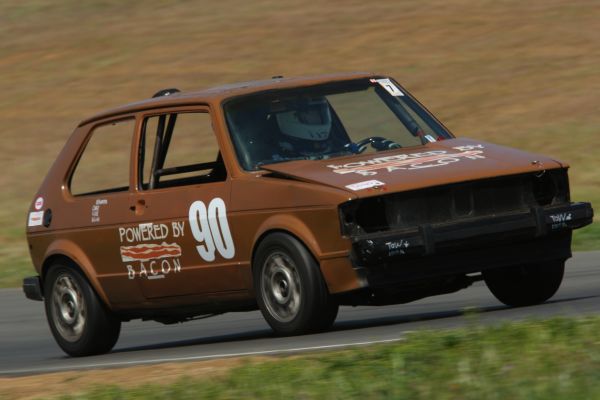 Goin' For Broken '10: Chim Chim Racing
Junkyard trips, engine swaps, the usual Rabbit fun.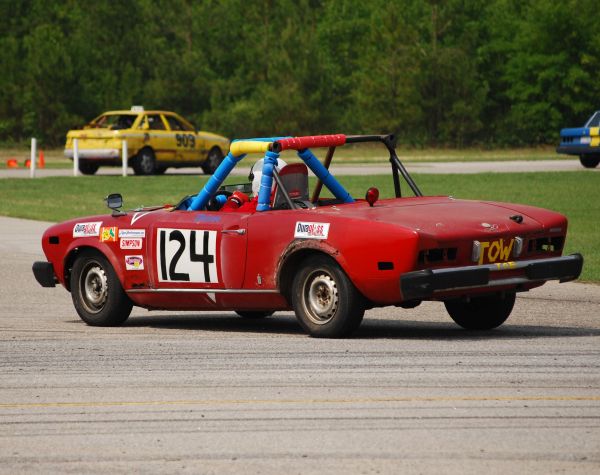 South Spring '10: Dixie Chickens
When you bring a Fiat 124 Spider to an endurance race, you've already got a Heroic Fix advantage. This team sacrificed the engine of the team captain's daily driver to keep the race car on the track.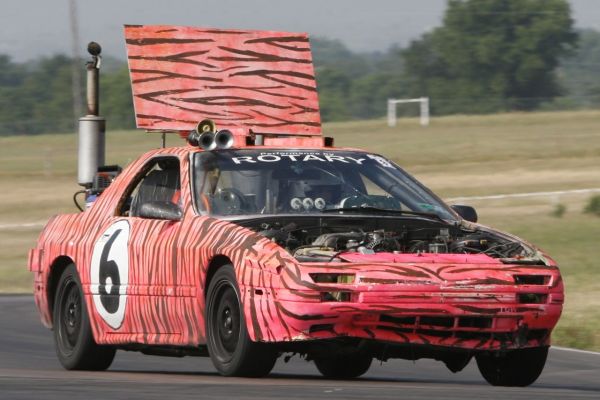 North Dallas Hooptie '10: Team Sensory Assault
I was busy getting married when this race happened, so I don't know the details of how The Loudest Mazda In LeMons History earned a Heroic Fix trophy. I'm sure the team members were blowing their ocean-liner air horn during the entire 11-hour repair.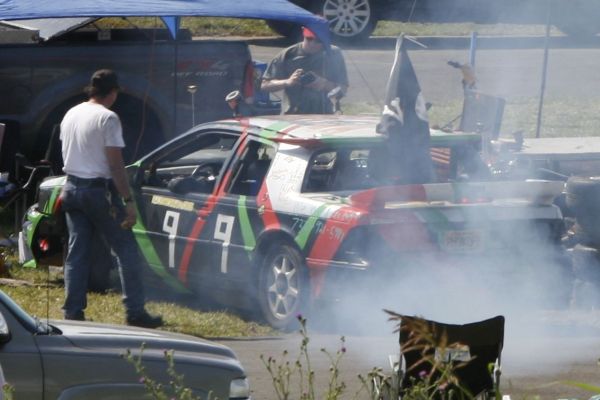 Capitol Offense '10: The E-Lemon-ators
Missed this race, too.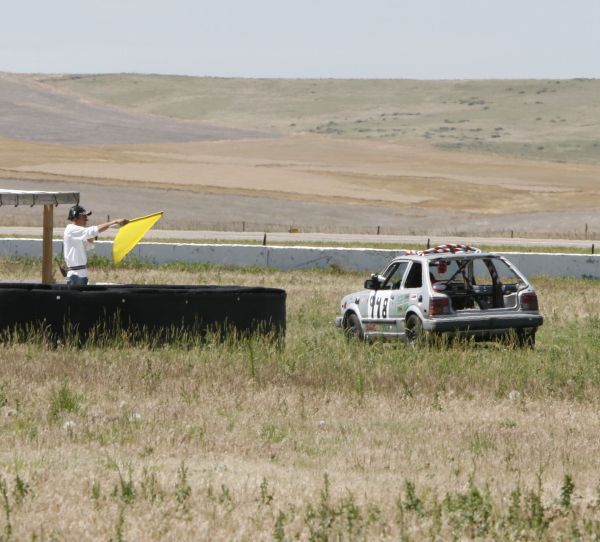 The B.F.E. GP: Christmas In July
Would you believe that this team was the first to bring a Malaise Era Civic to a LeMons race? We really wanted to see this car do well, but head gasket woes— which were solved, briefly, with a replacement head gasket made from beer cans— kept it off the track for much of the weekend. Still, the team's 20 hours of wrenching got their car out there for 46 laps.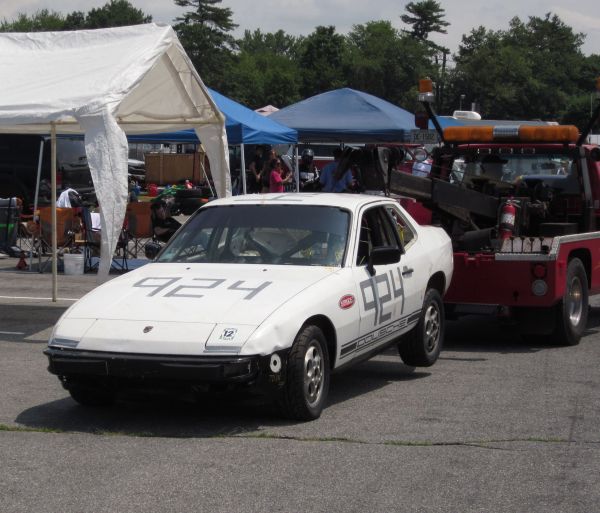 New England '10: Holton St. Eurotrash
Remember how you used to see Porsche 924 Turbos broken down at the side of the highway all the time? Right.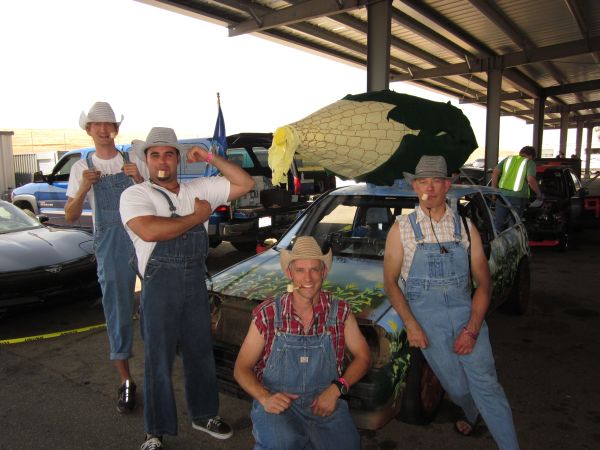 Arse Sweat-a-Palooza '10: Team StimPack: Cornhooligans
This Civic team had a great theme and a great concept to go with it: run their Integra-motored Civic on E85! Sadly, the engine blew up early and often, but the team never gave up. 9 glorious laps!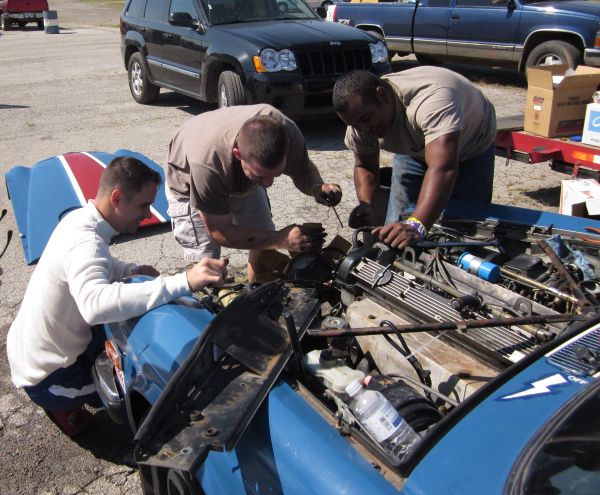 Mutually Assured Destruction of Omaha '10: The Rusty Nuts
This Jaguar XJ6 was looking pretty good for the first several laps of the Mutually Assured Destruction Of Omaha race, but then the huge clouds of oil smoke started billowing. "It's just a timing cover leak," said the Rusty Nuts. "We'll be back out there in a few minutes!" 10 hours of frenzied wrenching later (who knew that you had to remove all the engine accessories, the cylinder head, and probably a bunch of weird British parts nobody's ever heard of in order to get to the timing cover?), the Jaguar was ready to go.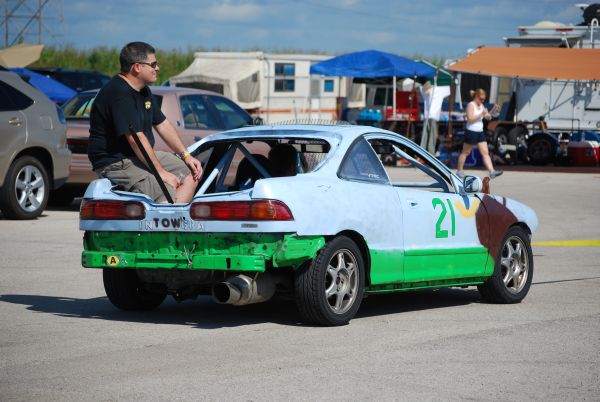 Yeehaw It's Texas '10: Hoonatic Racing
I don't even know where to start with this one. Hoonatic Racing found a real Integra GSR for a LeMons-grade price, which should have made them back away in horror before they handed over the cash. The car had been rolled a half-dozen times and maybe stuffed into a concrete abutment for good measure, and that was before it sat for a couple of years in a cottonmouth-infested swamp. Needless to say, the modifications necessary to get it in crypto-drivable condition… well, they sorta compromised the suspension and subframe rigidity. The car failed tech the first time. Then it failed tech another time. In fact, it failed tech about every wrenching-packed hour for the entire weekend, before Jay finally gave it the nod with exactly ten minutes before the final checkered flag. One lap… and a trophy. You can get the complete story here.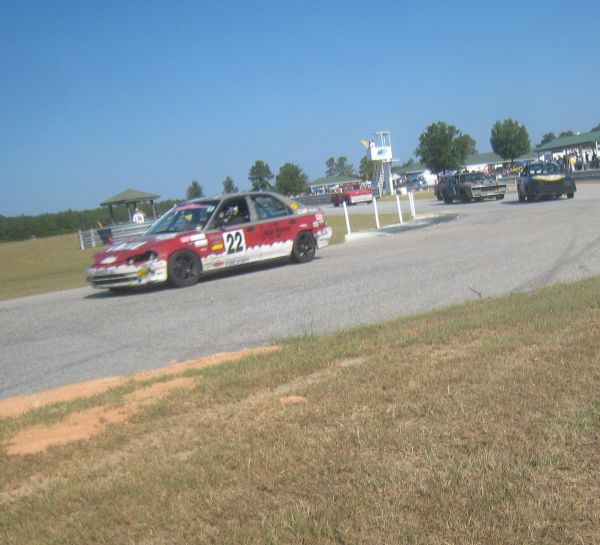 South Fall '10: Drinking and Driving
The Civic-ness of the legendary Duff Beer Honda finally caught up with it at the Fall '10 race. The team didn't give up, though!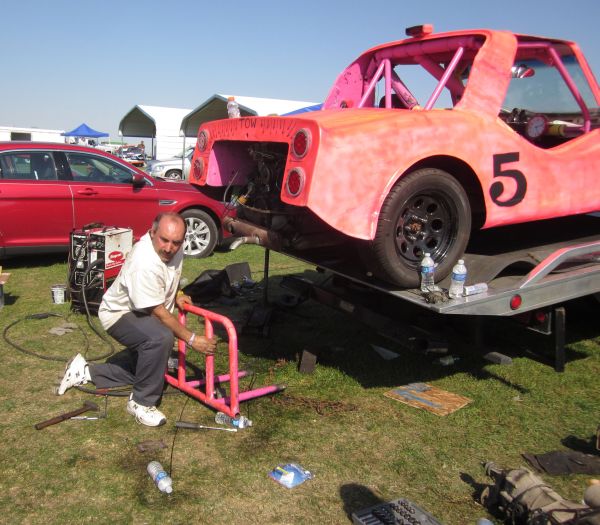 Detroit Bull Oil Grand Prix: Morrow's Auto & The Wacky Racers, Penelope Pitstop's Compact
Those crazy Pittsburghers from Morrow's Auto figured they'd need to bring something really amazing to LeMons after retiring their twin-turbo GMC van, and so they found a Bradley GT and dropped a Wasserboxer out of an early Vanagon into it. Guess what? The Wasserboxer isn't a particularly reliable engine! Good thing the Morrow's crew brought several air-cooled VW engines of unknown running condition, and they proceeded to swap one after the other into the pink kit car. What really earned them the HF was the carburetor adapter plate made from particle-board and the bottom half of the Wasserboxer's throttle body coupled with throttle linkage made from a bicycle shifter cable, bungee cords, and lots of coat hanger wire. Our first-ever two-time Heroic Fix winner!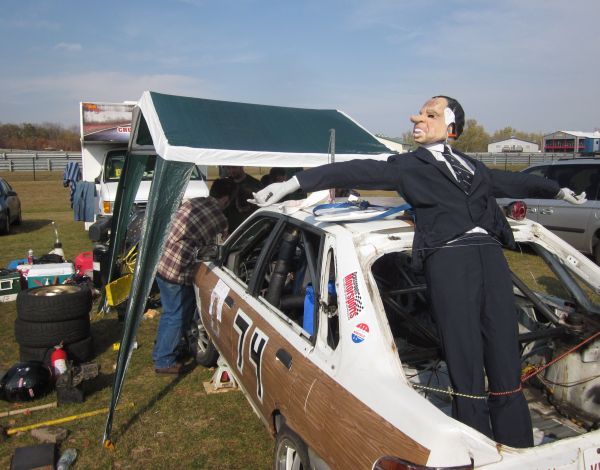 Rod Blagojevich Never-Say-Die 500: Team Resignation
This Richard Nixon-themed team made us very happy, but repeated engine failures kept the presidential Escort off the track for much of the weekend. Did Team Resignation follow Tricky Dick's example and resign? No, they did not, and they managed 217 laps.


---
---